Full order books mean the industry is likely to remain busy into 2008 but the impact of the credit crunch on new developments remains to be seen
01 Executive summary
Tender price index
Prices in Greater London rose another 1.7% in the past quarter and 7% over the year. Away from London, prices were also under pressure but generally rose a point or so less. There are doubts about the economy over the next year but inflation is still expected to reach 5-7%.
Building cost index
The building cost index shows a rise of 5.2% over the year to the third quarter 2007, compared with a rate of 5.9% at the end of last year. This reflects an easing in materials price inflation, but 6% labour increase next June will push the annual figure back up.
Retail prices index
The retail prices index peaked in March at 4.8%. It is expected to end the year at 3.8% and return to 2.6% by the end of 2008. The pre-Budget report forecast inflation to remain close to target throughout the forecast horizon (that is, to April 2011).
02 Trends and forecast
The rate of tender price inflation was 1.7% in the third quarter of 2007, giving an annual increase of 7%. This was highest in London.
The cause was a strong workload, and rises in the prices of materials and labour costs. New work output has risen for nine consecutive quarters since 2005, up 14% in real terms. The value of new work rose by more than £3bn, led by high office and housing activity. The strongest housing growth was in the north of England, whereas London dominated offices.
New orders surged ahead in the first half of the year, 7% higher than the previous year and 14% higher than 2005. But figures for July and August were worrying, with orders down from the first half. In July, the FTSE recorded its sharpest one-day fall since 11 September 2001.
Forecasts in July, before the current financial turmoil, predicted that new work output would rise 3.7-4.3% this year and 3% next. Experian predicted a rise of 2.9% in 2009; the Construction Products Association said 4.5%.
Next year's rise is expected to be led by private commercial work, particularly offices. Retail growth will be muted but the leisure sector will be boosted by the Olympics.
Will July and August's downturn in new orders be magnified by the credit crunch? Offices and housing gave the industry its biggest fillip for two years and these are the areas most at risk. With house prices declining and mortgage applications down, private housebuilding is anticipated to reduce next year. Buy-to-let landlords may benefit from the change to capital gains tax, but with higher mortgage rates and funding less readily available, this market may have peaked. David Ainsley, of Davis Langdon's bank and finance group, observes: "My team has noted nervousness among banks about private sector housing, including the withdrawal of facilities at short notice."
To what extent the private commercial side will be affected by the credit crunch remains to be seen. Viability was sometimes already under question as costs rose. Tighter, more expensive finance has added another burden. Financial institutions, suffering from the US sub-prime fiasco, may be the first to retrench when it comes to new investment.
London is the only sector reporting office rental growth; outside the capital, retail capital values are falling and rental growth is weak. As consumer spending falls, the retail sector is likely to suffer further.
Nor is the public sector immune. Ainsley said: "Pricing of long-term debt for PFIs has risen by over 25 base points in recent weeks." This has made deals more difficult to close.
A tighter funding regime may result in projects failing to make it to site, but contractors have full order books into 2008, which will ensure the industry remains busy.
Beyond the short term, public sector spending, particularly on schools, will provide a solid foundation of activity around the country, and Crossrail should attract investment into the next decade.
More stringent conditions for project finance may slow some projects and stifle less solid ones, so activity next year may be less than previously anticipated. This may create the potential for occasional competitive prices if teams are stood down at short notice. However, construction price inflation is generally forecast to rise by 5-7% in Greater London over the next year (slightly less in other places).
The following year is more uncertain, but construction activity seems likely to ensure prices continue to rise between 5-7% again.
03 Materials
Construction materials prices rose by 4.5% in the first eight months of 2007, compared with 7.7% over the same period in 2006. Over the past year, prices generally have risen by 6.6%.
Timber prices have seen the biggest gains over the past year, as world demand has redirected supplies away from these shores. Imported softwood has gone up by about 32%, including 15% since the beginning of the year, and prices are still rising. With countries such as South Africa about to start importing to make up for a shortfall in its indigenous supplies, there are likely to be further price rises in the short to medium term.
Fabricated structural steel prices rose 19% over the year to August, including 10% since the beginning of the year. European steel prices peaked in May and have since struggled against downward price pressures.
Corus introduced three price increases on structural sections this year, totalling £80-90 per tonne but the last was at the beginning of July. No more are expected this year. Steel makers are facing increased raw material costs as shipping costs reach new highs and subcontractors are unable to secure fixed prices for steel beyond early next year.
European reinforcement prices have been falling since April. In the UK, demand has enabled manufacturers to hold prices up: over the year to August, prices rose 12%, including 8% since the turn of the year. Prices are likely to follow the European trend downwards, with recovery not expected until spring of next year.
Stainless steel prices increased hugely from the beginning of 2006. They peaked in June after more than doubling in 18 months, but have now fallen back 20% in response to a sharp fall in nickel prices. These halved between mid-May and mid-August, although some minor recovery has since occurred.
The national news has once again been full of items about stolen roofs, bus shelters and brass crematorium plates. This follows a resurgence in the price of copper and lead. Copper prices surged back above £4,000 a tonne in May.
Copper pipes have consequently registered a 20% price increase since the turn of the year. However analysts forecast a surplus copper supply next year, bringing prices down by as much as 30%.
Lead prices rose to a record high of just below £1,950 a tonne in early October, some two-and-a-half times higher than the price a year ago. Lead prices are expected to remain high, with stocks at critically low levels.
Other materials prices may be more restrained this year than last but with oil prices breaking new records – £41 a barrel in mid October – manufacturers may be facing new input cost rises, and that may presage a new round of higher than usual price increases in the new year.
04 Market characteristics
Two-stage tendering is still the route of choice for large contractors. There has also been some return to construction management to avoid large risk premiums in tenders.
Some contractors are declining negotiated work, as they do not have the resources to fulfil it. Generally, the largest contractors and subcontractors are busiest, as they are able to dictate terms. This is, to some extent, a function of the trend over the past few years to package work into bigger parcels, reducing the number of companies able to take them on. Smaller and medium-sized contractors often have more capacity. Indeed, schemes worth less than £10m can still attract a high degree of competition.
As larger contractors approach capacity, they are able to demand greater margins. This sometimes means overheads and profits rising between the first and second stages.
Overheads and profits have risen quickly over the past year – some contractors are seeking 8% recovery, compared with 5% a year ago. M&E services contractors expect even higher returns.
A number of clients are extending framework agreements to retain services and avoid prequalification processes. High-profile, complex schemes are finding it difficult to secure the services of top specialists. This is exemplified by the curtain walling industry where the top players have full order books and are not interested in small schemes. High activity in London and the South-east is also discouraging them from looking elsewhere.
The uncertain inflation outlook means projects with long lead times are attracting high, fixed-price allowances as contractors attempt to cover unknown risk – notably steel, concrete and ductwork.
Labour availability is mixed. Some areas continue to report supply difficulties, others that shortages have been alleviated by the arrival of overseas labour. The active market in south Wales has created a shortage of skilled tradespeople, leading to price rises for bricklaying and carpentry. However the arrival of Polish scaffolders and plasterers is keeping rates in these trades keen.
In London and South Wales, piling and groundworks subcontractors are particularly busy, rates are rising and it is difficult to attract interest in new projects. M&E prices have risen above the general trend. Equipment such as pumps and electronic control systems have increased well above inflation levels and all copper products have seen rises.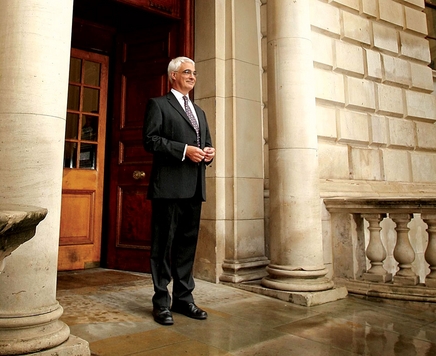 Hot topic - Comprehensive Spending Review Chancellor Alistair Darling has assigned £2bn to public sector projects over the next four years
October's pre-Budget report and Comprehensive Spending Review (CSR) affirms the continuing role for the public sector in the industry over the next few years.
Alistair Darling's report, Meeting the Aspirations of the British People, set out spending plans up to April 2011. In summary, total public spending will rise £2bn, over that stated in the 2007 Budget, which is an increase of 2.1% a year in real terms between 2007-8 and 2010-11. The figures include additional spending on health, education and transport.
Education
In total, investment in schools will rise to £8.2bn in 2010-11. The CSR allocated an extra £200m to accelerate the
primary capital programme to enable 75 more schools to be built or refurbished by 2010-11. The Budget had already provided £550m.
A further £351m, split over 150 local authorities, was announced. This will lift the total from about 1,500 to about 3,500 by 2010should enable every community to have a Sure Start Children's Centre.
The CSR reiterated the government's commitment to the city academy programme, and more than 200 are expected to
be open or in the pipeline by 2010-11.
Health
Health was one of the biggest winners from the CSR. Spending on the NHS will increase 4% a year in real terms, rising to £110bn by 2010-11. As expected, the annual percentage increase was lower than in recent years but higher than some has expected. Specific provision was made for 150 seven-day-a-week health centres and 100 GP practices in the areas least well provided for at present.
Transport
Darling's speech to the House of Commons acknowledged the country's previous failure to invest in transport. The review confirmed a 2.25% a year increase in the Department for Transport's programme budget, in line with the long-term funding guideline announced in the 2004 spending review. This growth commitment is now extended to 2018-19.
The review confirmed that the main construction of Crossrail can now begin, thanks to a £5bn commitment from the Department for Transport. The rest of the estimated £16bn cost is to be met by London businesses and Crossrail farepayers. However, work on site is not expected to commence before 2010.
There will be a doubling of the amount spent on upgrading the national rail network over the next two years, followed by a further £15bn over the next five. This will include the Thameslink upgrade in London and a programme of station improvements.
Extra money was also confirmed for strategic road schemes, such as widening of the M1 and M25, and £1.3bn a year for improving local and regional transport across the country.
Housing
The CSR affirmed the government's target of delivering 2 million new homes by 2016 including an increase in spending from £8.8bn this year to £10bn by 2010-11. The CSR also proposes:
A 50% rise in the construction of social rented houses. This is scheduled to reach 45,000 units a year by 2011
£1.7bn of targeted funding for infrastructure in growth areas, the Thames Gateway, new growth points and eco-towns, including £300m for the Community Infrastructure Fund
£500m to 2011 for the new Housing and Planning Delivery Grant. This is intended to prompt councils to improve housing supply and planning for housing
£2bn for neighbourhood and local renewal programmes

PFI
The CSR reiterated the government's commitment to PFI but acknowledged it as having a small role alongside a broader range of procurement models. PFI projects worth a total of £22.2bn are expected to reach financial close before April 2011.