Things are looking up in London, but the rest of the country is lagging behind, says Peter Fordham of Davis Langdon, an Aecom company. Another difficult year for the construction industry lies ahead
01 / EXECUTIVE SUMMARY
Tender price index
Tender prices were flat in the second quarter and prices may now have bottomed out in London, if not elsewhere. Declining workload over the year ahead will make it difficult for contractors to raise prices nationally but London is likely to see prices rise for the first time in over three years.
Building cost index
Building costs have risen 3% over the past 12 months, almost entirely the result of materials prices as labour wage agreements have been frozen. A small increase has now been secured by building operatives and costs are forecast to rise by a similar amount over the next year.
Retail prices index
Consumer price inflation has been more than double target throughout 2011. In June prices were flat enabling the annual percentage to decline fractionally to 5% for RPI and 4.2% for CPI. Both measures are expected to rise again as higher utility prices kick in.
02 / TRENDS AND FORECAST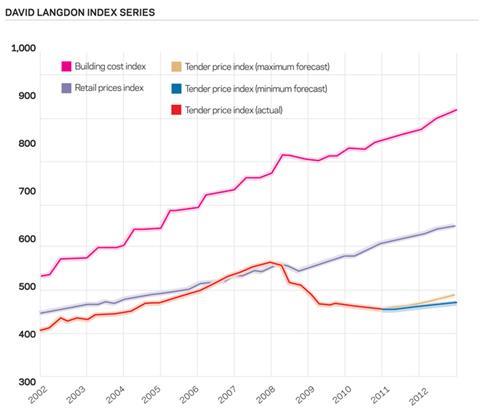 Construction prices in the second quarter of 2011 remained steady in Greater London but eased down again in most other regions. In Greater London the bottom of the price trough may at last have been reached, prices having fallen, on average, about 18% from their peak in the second quarter of 2008. Most of that decline happened in the second half of 2008 and through 2009 with prices falling only about 2% over the last 18 months. The early slump was led by the collapse of steel prices and labour-intensive trades such as groundworks, concrete formwork and wet finishing trades such as plastering and screeding. Throughout the period, preliminaries and profit and overheads allowances have also progressively fallen to levels from where it would, seemingly, be hard to cut much further.
The London market is looking somewhat stronger as more projects start on site, led by a new office development cycle. However, the global economic recovery has stuttered and the UK has followed suit. A year ago 2011 was expected to deliver GDP growth of over 2%; the average forecast now is just 1.3% with investment banks such as Barclays Capital, JP Morgan and Standard Chartered down to 1.1%.The health of the construction industry is inextricably linked to the strength of the economy as a whole.
The housing market remains critically important. In 2009 housebuilding accounted for 23% of construction industry output, a progressive decline from over 50% prior to 1980, with the private sector registering its lowest output since the fifties. Last year the private sector increased the number of completions but still built only two-thirds of the number it was building in the mid-2000s. The lack of mortgage availability to first-time buyers remains the obstacle to re-energising the market.
House prices have continued to decline in most areas. London is bucking the trend. Prices overall have risen but the real increase is in the top end of the market. Overseas buyers now dominate as the weak pound makes UK property attractive and the UK is seen as a safe haven from unrest in the Middle East, Africa and elsewhere. As a result, one of the areas of construction that is performing rather well is luxury high-rise apartments in London, which are proving quite easy to sell off-plan in sales presentations in the Far East.
The Monetary Policy Committee, in July, held interest rates at 0.5% for the 28th consecutive month. At the same time, consumer price inflation has been running in excess of target for 19 consecutive months and has been more than double the 2% target throughout 2011. CPI is forecast to move up to 5% when higher utility bills hit in the autumn. Consumers are lumbered with rising prices and falling incomes. Unsurprisingly, the retail sector is struggling. June was a bad month with Jane Norman, Habitat, Homeform (Moben kitchens, Dolphin bathrooms) and TJ Hughes going under and Thorntons, HMV and Carpetright all announcing large numbers of store closures. The supermarkets are doing well and maintaining their construction programmes but there is little prospect of any significant new retail developments elsewhere.
The optimism found at the beginning of the year has now dissipated. London has seen a number of new office starts, including some new big towers, but the glut of activity arising from the large number of lease breaks coming up, triggering pre-lets on new buildings, has not kick-started construction as fully as optimists had hoped. Existing landlords are going out of their way to persuade tenants to stay put as occupiers are losing faith in the economic recovery and opting to go for less expensive refurbished space instead.
The outlook for the construction industry over the next couple of years is not good. While London may see an improvement in activity, the rest of the country faces a bleak period. Private sector recovery is two years behind London and the public sector axe is beginning to make an impact. Both the Construction Products Association and Experian have recently revisited their construction output forecasts and neither anticipate an overall increase in activity before 2013, at the earliest.
Construction insolvencies, which eased in the middle of last year, have started rising again as companies vie for contracts by cutting costs to the bone while contending with suppliers attempting to pass on materials cost increases. Declared profit and overheads levels in tenders may be typically 3-4% but, in reality, contractors are believed to be tendering at cost or below in the hope of recovering margin during the construction period. Unsurprisingly, some contractors are now much more active post-contract in seeking opportunities to recoup money.
Overheads have been cut such that estimating departments are working with minimum staff, finding it difficult to return tenders on time and sometimes even having to decline tendering opportunities although the majority of companies are anxious to bid for almost anything that comes along irrespective of procurement route or onerous contract conditions. Larger contractors are certainly looking lower down the food chain at project values that would not have interested them two or three years ago. The smaller contractors are feeling the pinch the most as evidenced by the ONS' recent analysis of work by contractor size and by the FMB's workload surveys.
Materials prices continue to rise and commodities such as steel remain volatile and subject to sudden price increases as a result of unexpected world events such as the Australian floods at the beginning of the year. Although prices seem to have settled for the moment, some contractors are still reluctant to fix prices for items such as structural steel and rebar.
Another difficult year for the construction industry lies ahead. As a result, there is likely to be little opportunity for contractors to increase margins. Spare capacity in the labour market means that there will be little or no increase in site wages for most operatives. Materials costs may come under further pressure again next year, especially if the world economy picks up speed, resulting in a further rise in commodity prices. The anticipated further fall in workload means that competition will only become more intense and, while companies survive, prices nationally will probably show a further decline. In London, some recovery has occurred and, although the pick-up may not be as rapid as may have been hoped, it should enable some cost increases to be passed on, and tender prices are forecast to rise by between 1 and 2.5% over the next 12 months. The following year, the divergence between London and the rest of the country is likely to widen with further price rises in London of 2-4% as office construction steps up while the public sector cutbacks impact disproportionately on the regions, making any price rises difficult to achieve.
03 / HOT TOPIC – LONDON OFFICES MARKET
It is beginning to feel like the London offices market is the only show in town.
In 2009 London office construction accounted for 5% of all new work in Great Britain, rising to 7% in 2010. The percentage in 2011 is expected to rise again as new projects begin on site, while overall new orders and workload decline.
A number of high-profile projects have started or re-started in London in 2011, including the iconic towers: the Walkie-Talkie, Helter-Skelter and Cheesegrater. These three towers will deliver some 2.25 million ft2 of new space in 2014/15. All of these towers hit walking pace when the recession hit but their developers and funders have judged that the time is right to proceed, with construction costs at their lowest point and demand for prime space building up.
Central London rents bounced back strongly in 2010 recording 20% increases in the City. The rate of increase has since declined but GVA Grimley expects prime rental growth in central London to be "well into double digits" this year and average around 10% a year over the next three years.
The Drivers Jonas Deloitte Summer 2011 London Offices Crane Survey identified 25 new schemes that have started construction in the last six months. Most of these are relatively small schemes in the West End. In the City 2012 is likely to be the lowest year of completions on record and Drivers Jonas points out the window of opportunity to deliver into 2013 if work starts immediately.
At the beginning of the year it looked like developers were going to proceed fairly quickly with numerous smaller schemes that would complete before the big towers and coincide with the anticipated demand arising from expanding financial institutions and forthcoming lease breaks. However, in line with the global economy and stuttering conditions at home, the desire to proceed has weakened again. Funding remains a problem and pre-lets still a necessity. The Bank of England's latest Credit Conditions Survey did find a moderate increase in availability to certain high-quality borrowers in the commercial real estate sector with an expectation of a further increase in availability in the third quarter. Overseas funds are behind the most prestigious schemes and the UK - London in particular - is attracting more and more money into commercial property from the Middle East and, now, the Far East.
Each of the three big towers just getting under way and the Shard, now past its half-way point, are being built by different main contractors, demonstrating how each has been anxious to secure one of the prizes. This has left others hungry and means that all of the main players still have plenty of spare capacity for the next schemes coming along.
Outside of London the picture is very different. Rental growth is expected to be slow in returning to most regional markets though there are some tentative signs of activity, unseen for the last three years. Office take-up has increased in centres such as Leeds, Manchester and Newcastle but development pipelines remain minimal with overseas funding preferring London. Rents in the East Midlands, West Midlands and North-east are just beginning to turn the corner but are still falling in Wales, Yorkshire and Humberside and Scotland.
04 / ACTIVITY INDICATORS
Most, but not all, industry surveys suggest a bleak outlook.
Office for National Statistics
Construction output in the first five months of 2011 was 2.4% higher than in the same period of 2010 but much lower than the figures for the second half of last year. Housing is the most improved sector, 9% up compared with the same period of 2010 but 9% lower compared with the previous five months. Infrastructure is the only sector that shows positive growth over both periods, 5% higher on the first five months of 2010 and 11% higher compared with the last five months.
Output from small and medium-sized construction companies (fewer than 20 people) decreased in the first quarter compared with the previous quarter, more than output from larger companies (see FMB survey below).
The volume of new construction orders in the fourth quarter of last year was at its highest level since the second quarter of 2008. Unfortunately, 2011's first quarter total was the lowest for eight quarters. The pattern was replicated across every sector but the one area of bright light was housing, where the volume of orders over the last six months was 18% up on the previous six months and 22% higher than the equivalent period 12 months before.
Markit/CIPS UK Construction PMI
The Purchasing Managers Index has given some support to the ONS output data. The survey has shown an increase in construction activity (albeit slight) every month since March 2010, with the exception of December 2010 when the ONS recorded its sharp fall.
The survey is more at odds with the ONS new orders figures which have fallen in three of the last four quarters. The Markit survey for June found that new orders received by construction companies increased for a 16th successive month.
Glenigan Index
Industry analysts Glenigan reported a 24% fall in the value of construction starts over the three months from April to June 2011, compared to the same period of 2010, although the spring of 2010 was a strong period of growth. Both publicly and privately funded projects have declined throughout the first half of 2011 with civil engineering work particularly badly hit.
Experian Construction Industry Focus
The Experian survey found that construction activity fell in May for the seventh consecutive month. Only two months (April and October 2010) have been slightly positive since February 2008 when the construction industry meltdown began. Construction activity is expected to continue to contract over the coming three months. The North-west is the gloomiest region with regard to current activity and future order books while Scotland has the brightest outlook.
FMB State of Trade Survey
The FMB's Q2 2011 survey found that construction workloads declined for a 14th consecutive quarter. A majority of respondents expect levels of activity to fall further in the third quarter. The FMB survey reflects the views of SMEs in the construction industry.
05 / BUILDING COST INDEX
The Building Cost Index jumped another 1.25% in the second quarter due to resurgent materials prices.
| | | |
| --- | --- | --- |
| | Actual 2Q10-2Q11 | Forcast 2Q11-2Q12 |
| | | |
| Labour | +0.5% | +1.6% |
| Materials | +7.0% | +5.1% |
| Index | +3.0% | +2.9% |
Labour
Building and civil engineering operatives will see basic wage rates increase by 1.5% from 5 September after a pay freeze since June 2008. They will be disappointed given that plumbers secured a 3% wage rise and steelworkers a 4.7% increase at the beginning of the year. Since the third quarter of 2008, 269,000 construction jobs have been shed and the Markit/CIPS UK construction survey found that job cuts in June were at their highest for five months. Self-employed and agency rates remain under extreme pressure.
Materials
Construction materials price inflation accelerated once again in the early part of 2011 with steel prices the primary cause.
Reinforcement - Reinforcement prices rose by 19% in the first five months of this year. Scrap prices rose in June, resulting in a further increase in reinforcement prices in July. Some of this increase was initially absorbed by tendering contractors but latest tendered rates are now approaching £1000 per tonne, compared to £920 per tonne in the second half of last year.
Manufacturers have been partially successful in pushing through price increases but low demand may make further rises difficult to achieve and prices are forecast to decline as the rest of the year progresses.
Steelwork - ONS figures show that the price of fabricated structural steelwork rose by 14% in the first five months of the year and was 19% higher over the year. World steel prices leapt again at the beginning of the year as manufacturers sought to pass on raw material price increases in the shape of higher iron ore, scrap and coal prices. The increase was not as great as that which occurred in the early months of 2010 but enough to more than reverse the decline in prices that occurred in the second half of last year and take prices to a level 40% higher than the low point that occurred in August 2009.
The near panic in raw materials prices at the beginning of the year, which prompted headlines of "steel price to rise by 60%", has passed and prices have long since stabilised but, for the most part, have not fallen so manufacturers' cost pressures remain. However, most analysts expect steel prices to soften as the year moves forward.The counter to this is that global demand is rising and prices are, once again, expected to increase in 2012.
Copper - Mechanical and electrical services materials with a high copper content have seen substantial price rises over the last two years as the raw commodity price trebled. The price fell in line with the general commodities price correction in May but has since made a strong recovery.
The price of electrical cables has followed the trend and rose by 60% over the two years to March. A slight reduction occurred in April to June in response to the commodity price drop but prices are now expected to rise again. Medium-term forecasts for copper prices are mixed. Prices are generally not expected to be much different in 12 months' time but year-on-year price reductions are expected thereafter as more capacity becomes available.