Mipim latest: 14ha Smithfield plan targets 100,000m2 of new floorspace and 1,000 new homes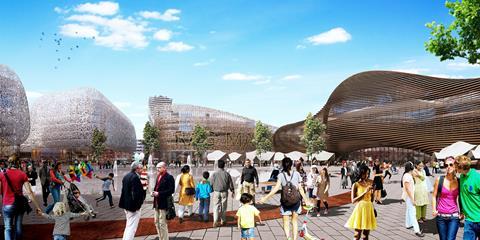 An artist's impression of the Birmingham Smithfield redevelopment.
Birmingham City Council has unveiled plans to redevelop a 14-hectare city-fringe site with a new family leisure quarter including new markets and housing.

It used this year's Mipim property fair in Cannes to launch the proposals, which centre on the current Wholesale Markets area, to the south of the city centre.
Council leader Sir Albert Bore said the redevelopment, dubbed "Birmingham Smithfield", was expected to create over 100,000m2 of new floorspace, 1,000 new homes and 3,000 new jobs, adding £470m Gross Value Added to the local economy and attracting millions more visitors to Birmingham.

"The £600 million redevelopment of New Street Station will complete this year, while the transformation of its retail scene – which includes the Mailbox, Grand Central, Selfridges and John Lewis – will drastically improve what the city has to offer," he said.

"Birmingham Smithfield presents a once in a generation opportunity to build upon our recent successes and deliver a truly unique asset for the city. Our plans will create a vibrant new destination – adding to the city's reputation as a top visitor destination and a great place to live and do business."

City council director of planning and regeneration Waheed Nazir said Birmingham Smithfield would have a transformational impact on the area's unique heritage and focus for markets.

"It will radically enhance the city's retail, visitor and residential offer, as well as unlocking the growth potential of a much wider area," he said.

"By showcasing the scheme at Mipim, we are directly targeting potential investors and developers to secure interest from across the globe."

The city council is due to launch an eight-week consultation on its Smithfield proposals next week.