Supporters say tower would have brought in new visitors but Sir Stuart Lipton says rebranding City as tourist attraction too difficult to achieve
Veteran developer Sir Stuart Lipton has said he would be "surprised" if anything got built on the plot of land that had been earmarked for the Tulip which was turned down for planning last week.
The 305m tall tourist attraction would have been higher than the 278m high 22 Bishopsgate tower which was completed last year and is now two-thirds let.
Developed by Lipton Rogers, the firm Lipton set up with Peter Rogers, the 62-storey building is currently the tallest in the Square Mile.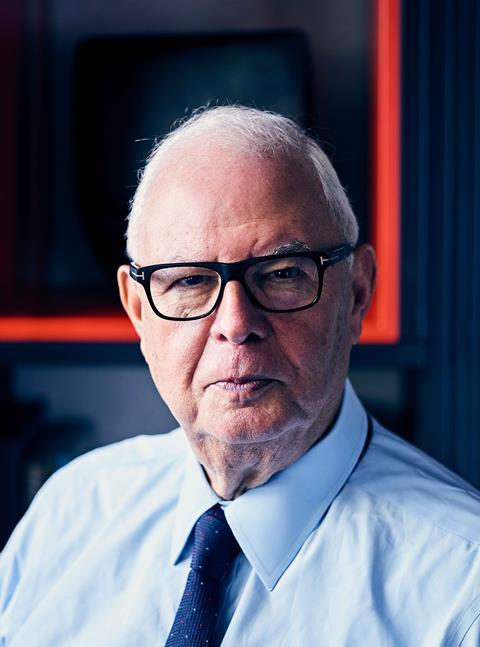 It would have been eclipsed by the Tulip but housing and communities secretary Michael Gove agreed with a planning inspector's report it should not be built and threw the Foster & Partners-designed scheme out.
Asked if anything would now be built at the site next door to the Gherkin that had been slated for the Tulip, Lipton said: "I'd be surprised."
Speaking about the design, he added: "It was OK. It was very bulky at the top and the bottom. It was a very functional building."
Supporters of the scheme, which included the City of London Corporation, said the Tulip would have brought in a different mix of visitors into London's financial heartland with tourists coming in at the weekends.
But Lipton said he believed the City would remain a commercial district primarily. "It's a nice idea [but] making it into a tourist attraction is difficult. To transform it into something else suggests you begin to abandon its original purpose as a business district."
The decision to pull the plug on the scheme has meant the Tulip's developer Bury Street Properties, run by Brazilian billionaire banker Joseph Safra, is now having to rethink what to do next with a final decision expected in the next couple of months.
The firm, which has until just before Christmas to ask for a judicial review into the decision, has not completely pulled the plug on the plan and one source said: "We have to reach out and find what is acceptable. We're going to sit back and work very hard about what to do next [and see] how this plan can be made to work."
Planning inspector David Nicholson, who was appointed after London mayor Sadiq Khan turned the scheme down and referred it to the secretary of state for approval, cited a number of concerns about the tower including the amount of concrete it required which he described as "highly unsustainable" while he also questioned what would happen if the view from the top of the Tulip were to be eclipsed in a few years by future towers.
There would be little motivation for a redundant attraction to be disassembled by its overseas-based owner, he said, and added there would be no incentive for other developers to buy the site since it was too small for a normal office tower.
Lipton said: "The inspector is pretty scathing about the building. If you go above 250/275m, you go into territory that is rarefied."
He said all developers had to take on board the inspector's comments about making sure buildings were sustainable – something he said firms had been doing before the report was published.
"Everyone I know is talking about carbon neutral buildings," he said. "People are looking at lower carbon steel, low carbon concrete, lower carbon facades. It's the number one issue everyone is focussing on."
This week Landsec said it would spend £135m over the next nine years to decarbonise its portfolio including replacing gas-fired boilers with electric systems such as air source heat pumps.
Around 66% of the 1.3 million sq ft of space at 22 Bishopsgate has been let with close to 20 firms calling it home. A viewing gallery at level 58 of the building is set to open next spring.
Multiplex, which was main contractor on 22 Bishopsgate, was one of several firms looking at the Tulip deal which had an estimated construction price tag of £500m. Others known to have been looking at it were Skanska, Mace and Sir Robert McAlpine.