City of London planners withdraw application for extra powers to fight off objections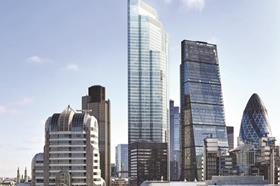 Lipton Rogers' application to the City of London Corporation for additional powers to fight off right to light objections to its 22 Bishopsgate tower has been withdrawn by the planning officer.
The planning officer withdrew the application for section 227 powers - under which the City would acquire an interest in the scheme - from yesterday's planning and transport committee meeting to consider more information, having previously recommended it for approval.
The developer submitted the application as it believes the project to be under threat from a "large" number of right to light objections from neighbouring property occupiers and its inability to settle those claims.
The firm had said in the application that it also needs to place substantial pre-construction orders for materials and procure the main build contract to hit its 2018 completion date and meet projected demand.
Planning permission for the defunct Pinnacle's 62-storey replacement was granted in November last year.
Meanwhile, Land Securities application for similar powers to enable development at its 21 Moorfields site above Moorgate Underground Station was approved at the same committee meeting.
The office and retail project which also won planning approval in November was similarly at risk over an inability to settle "a significant number" of right of light claims, according to its application.
The City can now authorise the purchase of an interest in the site under section 227 in order to engage powers under S237 to continue with the development.
Land Securities development director Kiran Pawar has previously said: "21 Moorfields is a strategically important site in the City of London, positioned above the new Crossrail station and the regeneration of this site is clearly in the public interest. Requesting the City of London to use their powers under Section 237 will help to prevent unnecessary delays to the delivery of the scheme."
Building revealed in November that the PLP-designed 22 Bishopsgate tower could have a construction value of £500m and William Hare and Careys were being lined up for the £40-50m steel and £30-40m concrete packages respectively.
Keltbray has already been on site demolishing the old 'stump' of concrete core abandoned by the former Pinnacle scheme and modifying the piling works.
Brookfield Mulitplex signed a pre-construction agreement with Lipton Rogers last February and was being lined up for the main construction job, which a source close to the project said was due to begin by February 2016. It is not known if the withdrawing of the application for a section 227 will effect the development's timeframe.
The project team also includes WSP Parsons Brinckerhoff as engineer, Alinea as the cost consultant, Aecom as the employer's agent and environmental consultant, Wilson James is providing logistics and DP9 is the planning consultant
Lipton Rogers has been contacted for comment.