Research project will develop construction robots that could boost both on-site and off-site sustainability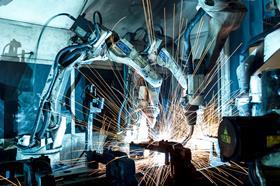 Skanska UK has won a £700,000 grant to develop robots for on-site and off-site construction that could greatly boost the sustainability credentials of construction projects.
The robots would be deployed on site, or in off-site mobile workshops, to carry out cutting, drilling and fixing.
Speaking to Building, Skanska's head of innovation, Sam Stacey, who is leading the research project into construction robots, called Flexible Robotic Assembly Modules for the Built Environment, said the robots will help improve sustainability across the industry.
By using these robots in off-site mobile workshops to build structures used on site, Stacey said, the robots will reduce the number of vehicles and deliveries to a site and reduce the carbon emissions produced on site.
He also said that the robots' automated technique in cutting, drilling and fixing components for structures "forces through proper design, manufacture and assembly" which, he said, "paves the way for increased optimisation" of design and manufacture techniques and will thereforereduce the amount of "physical waste and re-work required".
The robots use BIM to help carry out operations that are dangerous or tedious

Sam Stacey, Skanska
Stacey added that this will also reduce running costs of a building and help it achieve lifetime sustainability.
Skanska is leading a research consortium on the robots project, which also includes industrial robot supplier ABB Robotics, and consultants Exelin.
The robots will cost firms "a few tens of thousands", according to Stacey. He said for that money the robots will be able to use BIM to help carry out operations on site that are "dangerous, tedious or struggle to achieve good accuracy".
The £700,000 award to develop the robots came from the UK's innovation agency, Innovate UK, and the Engineering and Physical Sciences Research Council, as part of their joint research and development programme.
The robots could be used in combination with another of Skanska's research projects, the development of mobile off-site workshops that can be moved from site to site, dubbed "flying factories".
The research project into construction robots starts this October and will run for two-and-a-half years.