Fit-out of Tudor warship museum follows Titanic anniversary attraction win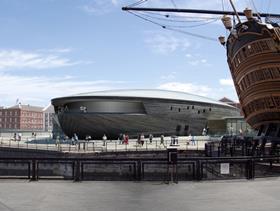 London-based fit-out contractor 8build has won its second museum project, to fit-out the space that will hold Tudor warship the Mary Rose.
Work will begin this month on the fit-out of the Wilkinson Eyre-designed museum in Portsmouth.
The ship was recovered 30 years ago from the Solent and the new museum will bring the hull and thousands of artefacts that were raised together.
The interior was designed by Pringle Brandon co-founder and maritime archaeologist Chris Brandon.
The fit-out win follows completion of the Southampton Sea City attraction, which opened last month to commemorate 100 years since the sinking of the Titanic.
John Lippiett, chief executive of the Mary Rose Trust, said: "it is a huge challenge to build safely not only over a unique 450 year old structure but also on a site which is itself a Scheduled Ancient Monument. B
"But we have a team combining some of the best architectural, engineering and construction practices in the world and for us they have developed a scheme which manages to be both stunning and subtle.
"It is hugely sympathetic to its dockyard surroundings and at the same time highly practical for our unique needs".