But Balfour Beatty and Galliford Try admit opening dependent on weather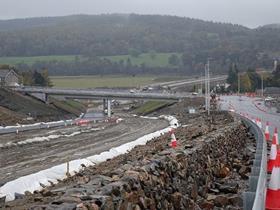 More details of delays on construction of the Aberdeen bypass have emerged as Galliford Try and Balfour Beatty said they hope to finish the job by Christmas.
But the pair admitted hitting the latest opening date – the job is over a year late – was dependent on a good period of weather.
In a joint statement to the Scottish parliament's rural economy committee, the contractors said their "losses will be huge" – even if they agree a compensation package with client Transport Scotland.
The pair are trying to recoup money for additional time to complete the work as well as compensation for additional costs.
The contractors said: "The remedial works are currently forecast to be complete just before Christmas, which would allow opening of the full project; albeit that is a challenging programme as the works are highly susceptible to adverse weather, and are subject to stringest safety tests."
The pair said they had faced "extraordinary challenges" building the road including more than 300 utility diversions such as water pipes and electricity cables, "the worst flooding in the region since records began" and the collapse of Carillion.
A consortium featuring the pair, as well as Carillion, signed a contract to build the bypass back in June 2014 under a lump sum fixed price contract worth £533m.
The group was charged with building 46km of dual carriageway, 40km of side roads, 14km of carriageway upgrades and 75 structures – including crossings across the rivers Dee and Don.
But Balfour Beatty and Galliford Try have conceded the project will be approximately 13 months late.
All but one section of the bypass has now been handed over. The stretches of road in the remaining section have also been finished, but for contractual reasons are unable to be handed over until remedial works to a bridge over the River Don have been completed.