Club yet to decide between two potential sites for stadium
Scottish Premiership side Aberdeen FC has committed to building Europe's first net zero stadium.
The club, which won the last of its four league titles in 1985 under the stewardship of then manager Alex Ferguson, confirmed plans for a net zero stadium in a statement after signing up to the UN Sports for Climate Action Framework.
The framework commits signatories to cutting emissions by 50% by 2030 and achieving net zero by 2040. Club chairperson Dave Cormack said the new stadium would be "integral" to meeting these goals.
He said meeting emissions targets would be "no easy challenge", highlighting travel and the ageing Pittodrie stadium as some of the club's biggest environmental impacts.
"It's therefore our ambition to design and build a world-class, net-zero facility and adopting the UN's framework will help us to achieve this," he added.
It is unclear yet where the Dons' new stadium will be built.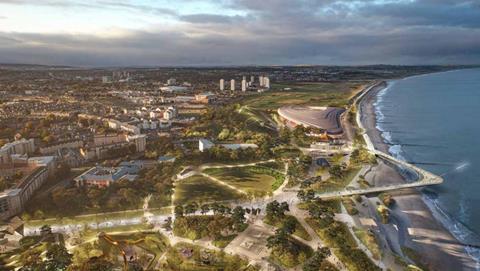 The club has planning permission for a new stadium six miles from the city centre next to its training ground in Kingsford, for which Populous has reportedly been working up designs.
But the city council has also offered the club a place in a joint facility at the focal point of a planned £100m regeneration of Aberdeen's seafront – less than 1,000 yards from its existing stadium.
Capacity at the Dons' eventual home ground will be limited to 16,000-17,000 – smaller than the current stadium – with the hope of filling the stadium every week.