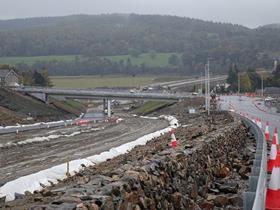 Transport Scotland has said the final stretch of the Aberdeen bypass will open this week.
The section, centred on a bridge crossing over the river Don, had been due to open before Christmas.
But the client said Balfour Beatty and Galliford Try had missed promised deadlines meaning the scheme, which is more than a year late, had still not fully completed.
A Transport Scotland spokesperson said: "Subject to operational planning, we expect the final section of the AWPR to open [this] week. An update will be provided when final arrangements are confirmed."
In its interim results last week, Galliford Try said the job, known as the Aberdeen Western Peripheral Route, had cost it a further £26m bringing the firm's total losses on the job to close to £150m.
Balfour Beatty is expected to give more details on the scheme when it unveils its 2018 results next month.
The pair said they would be out of pocket by up to £80m between them after Carillion's collapse last January.
The bust firm was working in a joint venture with the two on the job which was won as a £533m lump sum contract.
Balfour Beatty and Galliford Try are pursuing a number of claims against the client saying they should be able to recover some money for problems that were beyond its control such as weather – parts of the site were under water following devastating floods at the end of 2015 – and carrying out close to 300 utility diversions along the 58km route which the pair say should have been the responsibility of utility contractors to sort out.