Council planners want developer of luxury hotel scheme in landmark arch to contribute more to affordable housing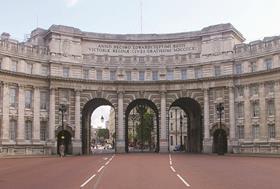 Plans to turn Admiralty Arch into a luxury hotel look set to go ahead if the developers increase the amount they are prepared to pay towards public housing in other parts of Westminster.
Westminster council planning officers have recommended the scheme, which will see the landmark gateway to The Mall and Buckingham Palace transformed into an exclusive hotel, for approval, but on the condition that the developer increases its social housing contribution beyond the £600,000 already offered.
The Grade-I-listed arch was bought last year for £60m by private equity group Prime Investors Capital (PIC).
Under the proposals, PIC has offered to pay £600,000 for publically-subsidised housing, with a further £100,000 offered for public art.
However, council planners said this fell short of council planning policies, which required £1m for affordable housing and around £800,000 for other obligations.
The planners also recommended that a planned private members club that will form part of the development be reduce din size from 400 to 300 private members.
The planning application is expected to be debated by the council next week.