New firm NBS Schumann Smith will add cost and carbon data to BIM models offered to architects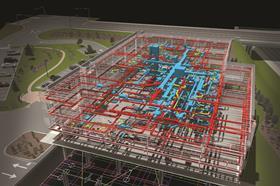 Architects are to be offered BIM models boasting cost and carbon data after Aecom joined forces with National Building Specification to establish a new service.
New company NBS Schumann Smith will be launched next month and seeks to combine Aecom's specification consulting and design management (SDM) service in the UK with the range of specification products and content offered by information provider NBS, an arm of RIBA Enterprises.
It will be headed up by Dave Smith, director of the original company Schumann Smith since its formation in 1986 and subsequent merger with Davis Langdon in 2000.
Between them, NBS and Aecom already service all of the UK's top 100 architects and Smith said the new offering would see Davis Langdon and Aecom expertise embedded into NBS's existing BIM models and BIM Library.
"The way in which BIM is progressing means this is the next step forward for how you prepare your design," he said.
"What we are really trying to do is to align ourselves with the cutting-edge of the market.
"I don't envisage it will be long before our enhanced specifications become the new industry standard. "
Richard Waterhouse, chief executive of RIBA Enterprises, said: "This collaboration is a logical step in our on-going efforts to make life easier for design and construction teams."
Under the deal, Aecom's specification consulting and design management teams in Australasia and the Middle East will remain as part of Aecom whilst retaining close links with NBS Schumann Smith.