US-based consultant buys 900-strong consultant South Africa-based consultant BKS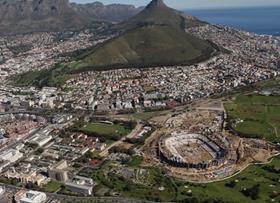 Aecom has expanded in Africa with the acquisition of 900-strong South Africa-based consultant BKS.
BKS provides engineering and consulting services and has 17 offices in South Africa, as well as bases in Kenya, Libya and Mozambique.
Aecom – which owns UK quantity surveyor Davis Langdon – said the acquisition would strengthen its position in a "high-growth market".
Aecom takes 80% ownership of the South African firm, while existing BKS investors retain a 20% interest.
BKS was established in 1965 and works on buildings, stadia and transportation and in the water and sanitation, mining and energy sectors.
Aecom chairman and chief executive officer John Dionisio said: "BKS is well situated to help us further penetrate the growing commercial and industrial sectors and better service our multinational clients as they continue to expand into this region.
"BKS's breadth of services increases our existing in-region capabilities, and we look forward to welcoming these new employees to AECOM."
BKS chief executive officer Danai Magugumela said: "Aecom's vision for a more sustainable future supports our goals to offer customized solutions for sustainable development
"With similar values and objectives, we look forward to being able to provide our clients with continued excellence and enhanced services while offering greater access to career-development opportunities for our employees."
The transaction is subject to closing conditions and the approval of the Competition Commission of South Africa.
The takeover is expected to close during the fourth quarter of this year.