Consultant to act as lead designer on central section of Thames Tideway Tunnel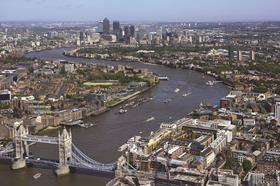 Aecom has been appointed lead designer on the most valuable central section of London's planned 'super sewer'.
The engineer has been drafted in by Ferrovial Agroman and Laing O'Rourke, the joint venture delivering the 12km central section of Thames Water's Thames Tideway Tunnel sewer system.
The construction value of the central section is between £600m and £950m, making it the most valuable works along the total 25km length of the system.
The overall £4.2bn project is designed to help alleviate pressure on the capital's Victorian wastewater infrastructure.
Aecom will deliver design services for the central section route between Carnwath Road in Fulham to Chambers Wharf in Bermondsey.
Aecom is currently working with the Ferrovial Agroman, Laing O'Rourke JV to deliver the detailed designs for the central section. Construction will start in 2016 and the project is expected to be completed in 2023.
The hub for tunnelling activity will focus around the Kirtling Street shaft in Battersea, where both the east and west tunnelling machines will be launched.
The entire sewer tunnel generally follows the route of the River Thames, starting in west London and travelling to Limehouse, where it then continues north-east to Abbey Mills Pumping Station near Stratford. There it connects to the Lee Tunnel, which will transfer the sewage to Beckton Sewage Treatment Works.
Aecom also delivered design consultancy services for the Lee Tunnel project, which is currently under construction and due to be completed in 2016.
The complex central section of the tunnel will pass through a variety of different ground conditions, including London Clay, Lambeth Group, Thanet Sands and Chalk.
It will be built under London's existing underground infrastructure, in close proximity to tube lines and utilities. The designs will also need to minimise disruption to the busy, compact London streets above.
Aecom has worked on a number of major underground projects in London, such as on the central underground section of Crossrail and detailed designs of both Paddington and Farringdon stations.
Steve Woodrow, Aecom's head of tunnels, Europe, said: "Tideway is one of the UK's most important new infrastructure projects, which will dramatically improve the water quality of the River Thames and give London a wastewater system it can rely on.
"Aecom's tunnelling team brings its recent experience delivering the Lee Tunnel to this key civil engineering project."
Peter Main, project director for the Ferrovial Agroman, Laing O'Rourke JV, said: "The central section of Tideway is a major feat of engineering and Aecom brings valuable expertise in tunnelling design services that will enhance and strengthen our delivery team."