Consultant's contracting arm to exploit rising interest in modular construction as solution to housing shortage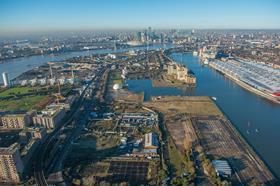 Aecom is looking to expand its modular housing ambitions beyond the 3,000 homes it will produce at the £3.5bn regeneration of the Silvertown area of east London.
The firm's contracting arm was appointed on the Docklands scheme this week and will build a modular homes factory to deliver the units.
Peter Flint, chief executive of Buildings and Places at the US consultant, told Building: "The theory is it could [supply other developments in the area]. For it to be successful, you do need good supply."
Flint said firms thinking of investing in setting up a modular housing factory needed to have confidence that demand was there.
He added: "Like any manufacturing process, it's all about the through-put. The costs start escalating if the factory's sitting there not being used.
"So once it's set up, you ideally like a stream of orders and we think, in the current environment with the government focus on [modular construction], the macro-economic equations are lining up and it might work this time.
"Silvertown is ultimately looking for 3,000 new homes and in the Silvertown area you could potentially use the facilities to supply other developers in the local area as well."
Building revealed earlier this year that the development team – called the Silvertown Partnership and comprising Chelsfield, First Base and Australian firm Macquarie Capital – had been looking to build a temporary factory at the site to help it construct the first phase, which will include 860 homes with a development value of £200m.
Aecom, which set up a contracting arm in the UK in 2015, was chosen on the back of its work with architect Rogers Stirk Harbour & Partners on a modular development in Lewisham in South-east London, according to Phil Wade, director at First Base.
"Silvertown provides the scale but the bigger picture is about the mayor's aspiration for the regeneration of the docks and its potential to provide up to 20,000 new homes. It gives you a real scale to feed that factory," Wade said.
The factory, which is subject to planning, could be 7,000m2, with the capacity to deliver 500 units per year, creating up to 125 jobs.
Wade said the aim was to submit detailed planning for the residential element for the first phase by the summer with a view to starting on site in the first half of 2018.
Covering a 62 acre site at the Royal Docks, the Silvertown scheme will also include 50 commercial buildings and will involve turning the Millennium Mills, a derelict flour mill, into commercial workspace.