US firm follows in footsteps of rival Arcadis as covid pandemic prompts firms to review estates
Aecom has become the second major consultant in as many days to confirm it is reviewing how much office space it needs at its London headquarters in the wake of the covid-19 pandemic.
Yesterday Building revealed Arcadis was swapping its King's Cross home of the past 15 years for a new office in the City because of the impact the virus has had on working habits with repeated lockdowns keeping millions of office workers at home.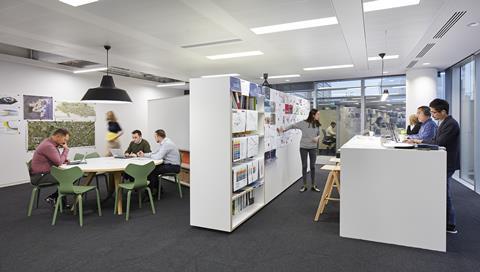 Now Aecom has said it is taking a second look at how much space it needs at Aldgate Tower, the Wilkinson Eyre-designed building it moved into in 2016 after more than a dozen years at MidCity Place in Holborn, the former home of Davis Langdon which it bought for £200m over a decade ago.
Aecom has room for around 1,000 staff across the four-and-a-half floors it rents at the building on the City fringe with other tenants including food delivery and taxi app firm Uber and shared office provider WeWork.
The firm said it was not leaving the building but in a statement added the review would look at shrinking the existing space it had there.
A spokesperson said: "We know that even after we return to normal working conditions, our employees will want greater flexibility in where they work. So we're reviewing our office footprint to align with the future needs of the business."
It is understood proposals being considered by the firm, which last year axed around 500 jobs in the UK and Ireland, include subletting some of the space while other options could include relocating some staff to its offices at St Albans and Croydon.
Aecom designed the new offices itself and within months hailed the move a success, the firm's website adding: "The change is tangible, with a greater energy and vibrancy. Staff are more engaged, more collaborative, more excited about the wider possibilities and their own development and are dreaming bigger."
Also on the move is procurement specialist Scape which is closing its London office at Smithfield and looking for another in the capital.
Chief executive Mark Robinson said: "We're doing a proper review of our offices in the next six months once we have a better understanding of where the country is going and what's going to happen. Just in terms of business operations, you don't want to commit to long term leases when there's still a period of fluctuation in terms of the country in general."
Arcadis said it is taking two floors totalling 40,000 sq ft at its new building, known as EightyFen, which was completed by Skanska at the end of last year under a £136m deal.
Floors will be fitted out with smart tech-like environment and utilisation sensors to make sure the space is being used efficiently with the new space being designed more as a 'collaboration hub' than a traditional desk-based work environment.