Exclusive: Firm expands masterplan role to include design development work on all Olympic park venues, infrastructure and landscaping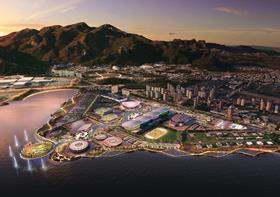 Aecom's masterplanning role on the Rio 2016 Olympics has been extended by Games organisers, Building can reveal.
Aecom – which was made Olympic park masterplanner alongside UK architect Wilkinson Eyre in August 2011 – has since been contracted to carry out design development work on all the park venues and to design park infrastructure and landscaping.
The scope of venue work includes engineering and architecture, particularly specialist sports architecture.
Jason Prior, buildings and places lead at Aecom, told Building the firm had taken the design of the Rio venues "a lot further" than it did on the London 2012 Olympic park, which it also masterplanned.
Aecom was awarded more design responsibilities on the Rio 2016 park partly due to the tighter development site and timetable than the London park, Prior said.
[We moved] beyond a simplified brief to the architects […] to actually developed buildings

Jason Prior, Aecom
Aecom has handed over the venues to a range of architects – most of which are Brazilian – and is continuing to work with the client and the architects through the design process.
Prior said Aecom "effectively handed over an incredibly detailed briefing pack" on the venues to architects, covering areas including "how do the bowls work, how will the buildings operate and how do they fit International Olympic Committee [IOC], sporting federation and safety standards".
He added: "To some extent we took care of all the vulnerable bits of the brief in terms of how an IOC delegation might evaluate the buildings."
Aecom also designed how the venues will "plug into" the park's main undulating concourse at ground and first floor levels.
Prior said: "It's a very tight site so you have to manage crowd flows in a different way. This gave us the opportunity to move beyond a simplified brief to the architects in terms of where the buildings might sit, to actually developed buildings which we know plug in to the infrastructure in the right way."
The organisers have invited Aecom to bid for a number of "additional services", Prior said.
In addition, Aecom is "now working on more work outside the Rio Games" in Brazil after a series of recent contract wins, he said.