Aecom and Pininfarina win design competition for the air-traffic control tower at Istanbul's new airport in Turkey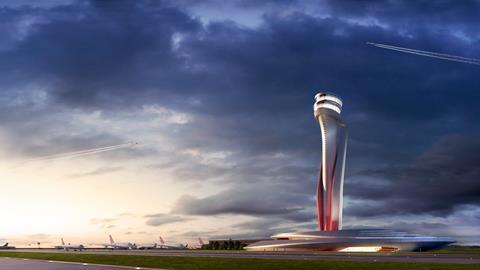 Aecom, in collaboration with Italian car designer Pininfarina, has won the design competition for the air-traffic control tower at Istanbul New Airport in Turkey.
The tower will be visible to all passengers travelling in and out of Istanbul's new £7.3bn airport, currently under the first phase of construction.
The tulip-inspired tower from Aecom and Pininfarina was selected over designs from RMJM, Zaha Hadid, Grimshaw-Nordic, Fuksas and Moshe Safdie.
It is Aecom's latest win at the airport. Earlier this year it was appointed by İGA – the consortium of five Turkish contractors selected by the Turkish government to build and operate the airport – to deliver designs for all the airside works at the airport in partnership with Delta Turk.
Yusuf Akçayoğlu, chief executive of İGA, said the new air-traffic control tower would be an "iconic" structure.
"We were looking for a striking design fit for a 21st century airport while remaining sensitive to Istanbul's unique heritage," he added.
Jennifer Dixon, head of architecture, Europe, Middle East, India and Africa, Aecom, said: "In this competition, our aim was to combine the dynamism and romance of Pininfarina's architectural style that is so influenced by automotive design with Aecom's in-house aviation architecture capabilities.
"The Aecom and Pininfarina team has created a beautiful and highly functional piece that rekindles the excitement and glamour of modern air travel at the crossroads of Europe and Asia."
Istanbul New Airport is located 35km outside of the city, on the European side, adjacent to the Black Sea. Once completed it is expected to initially serve 90 million passengers per year. However, subsequent planned phases will expand the airport to include six runways and three terminal buildings with a capacity to serve 180 million passengers annually.