But campaigners argue scheme is a missed opportunity for not involving women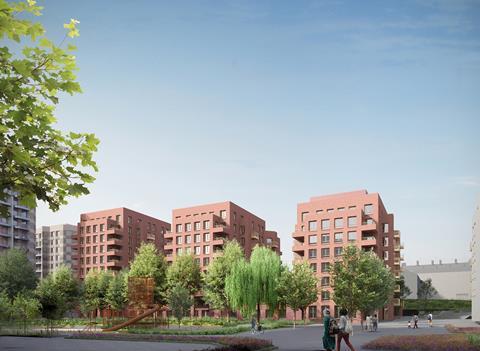 AHMM has revealed proposals for nearly 1,000 homes for Peabody on the former Holloway Prison site in north London.
Holloway was western Europe's largest women's prison – and one of Britain's most famous jails – before its closure in 2016. Dozens of suffragettes were incarcerated there as well as Moors murderer Myra Hindley and Diana Mitford, wife of the fascist leader Oswald Mosley. Five women were executed there including Ruth Ellis, the last woman to be judicially hanged in Britain. Oscar Wilde was an inmate before it became a women's prison.
The Ministry of Justice sold the site in 2019 to Peabody for £80m as part of a wider strategy to sell off prisons on valuable central London sites. The Greater London Authority lent the housing association £42m and the mayor of London said 60% of the homes built would be "genuinely affordable". Just over 40% of these will be for social or target rent, Peabody said.
The car-free scheme is for 980 homes, a 0.6ha park and what is being called a Women's Building. This 1,400sq m community facility will offer support services as an acknowledgement of the site's history, said Peabody.
But the redevelopment has been criticised by campaigners as a "missed opportunity" for not involving women in the design and construction
Sarah Akigbogun, vice-chair of Women in Architecture UK and founding director at Studio Aki, called it "another example of the marginalisation of women's needs but also of women in the construction and the procurement processes".
Sarah Wigglesworth, founder of Sarah Wigglesworth Architects which is based near the site, said: "Women should design and build this building. This would empower and skill-up a generation of construction professionals and show that construction is a viable – even desirable – occupation for girls and women."
AHMM leads the masterplanning team. Landscape architect is Exterior Architecture. The scheme is being delivered in partnership with developer London Square.