Danny Alexander launches new industry forum to help government deliver its infrastructure plan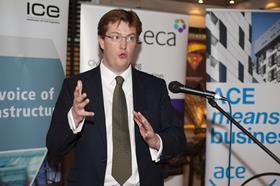 Chief Secretary to the Treasury, Danny Alexander, has launched a new industry forum to help drive implementation of the UK's National Infrastructure Plan.
Alexander launched the body – which will be called the National Infrastructure Plan Strategic Engagement Forum (NIPSEF) – at the Liberal Democrat party conference last night.
NIPSEF will be co-chaired by Alexander and will bring together the government and the construction industry's Infrastructure Alliance.
Dr Nelson Ogunshakin will also co-chair NIPSEF on behalf of the Infrastructure Alliance, which comprises of the Association for Consultancy and Engineering (ACE), the Civil Engineering Contractors Association (CECA), the Construction Products Association (CPA) and the Institution of Civil Engineers (ICE).
Speaking at an event hosted by the Infrastructure Alliance last night, Danny Alexander, who chairs the cabinet committee on infrastructure, said the new forum had emerged out of several months of discussions between government and the Infrastructure Alliance and would be focused on improving engagement between government and industry.
He said: "It will bring together practitioners - people involved in the delivery of infrastructure - with myself and Treasury on a regular basis, and will make sure that we are holding our feet to the fire and are working together on the best way to deliver our commitments."
Alexander said the first meeting of the forum would be in "the next few weeks". "I will be taking part in that myself," he added.
The launch of the forum came as the Infrastructure Alliance launched a new report calling for the government to back investment in infrastructure across the country.
The report warned that the UK's economic recovery could be held back if fears of an emerging crisis in the UK's infrastructure sector are realised. To avoid this "infrastructure crunch" the report called for::
Immediate action to stimulate 'shovel-ready' maintenance and minor works
Analysing future demand for skills to ensure the UK has a world class infrastructure workforce available to deliver vital future projects
Rebalancing investment throughout the UK to rebuild activity in communities and support a more even economic recovery
Development of greater consensus on the country's infrastructure needs and how they can be best delivered and paid for
Speaking on behalf of the Infrastructure Alliance, Costain infrastructure director Darren James said: "While infrastructure can help plot a route to recovery, equally its failure can stamp a foot on the brakes of the economy. We know that congestion steals billions from UK plc each year, and it is set to worsen. And we face an energy crisis.
"But we, as industry, the government, and everyone else can fight this crunch. We are publishing this four-point plan detailing the steps we believe we all need to take to secure the future of UK infrastructure."