Firm founded in 2013 by former Davis Langdon and EC Harris partners posts 40% jump in yearly turnover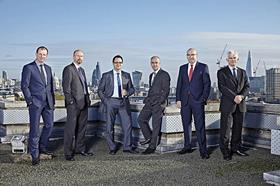 Alinea is set to hit £10m turnover in just its fourth year of business, after another strong set of results for the fast-growing cost consultant.
The firm – founded in 2013 by former Davis Langdon and EC Harris partners Paul Allen, Iain Parker, Steve Watts, Paul Zuccherelli, Mark Lacey and Richard Taylor – posted a 40% jump in turnover to £8.2m over the year to May 2016, up from £5.8m.
Staff numbers also increased to 75, up from 56, while the partnership was extended by three to make 12 partners.
Co-founder Parker told Building the firm is on course to hit £10m turnover and employ at least 85 staff by the end of its financial year.
He said the business' growth was happening much quicker than anticipated on the back of a string of major project wins, including roles on Lipton Rogers' 22 Bishopsgate tower in the City of London and the £3.5bn Silvertown Quays scheme in east London.
Parker said: "We are building our brand and our profile off the back of doing lots of good work.
"We could be 100-strong now if we wanted to because the work has been there, but we don't want to go too fast. We want it to get to a good size relatively quickly and then just be quite selective around what we do."
Commenting on the acquisition of fellow cost consultant Sweett by engineer WSP Parsons Brinckerhoff earlier this month, Parker said the deal created opportunities for SMEs like Alinea: "Sadly if you look at Sweett and others that are perhaps falling away a little bit, that means our slice of the pie is getting bigger."
Other schemes that Alinea is working on include Meyer Bergman and Warrior Group's redevelopment of Whiteleys shopping centre in Bayswater, west London, and British Land's Blossom Street scheme in Shoreditch.
Parker said the firm was not too worried about a potential Brexit backlash: "These sorts of schemes get built through both good and bad times. [We have] enough work and enough schemes that are so diverse with massive intent and money behind them that, I think, they're going to happen whatever.
"Ninety per cent of projected fee income for the next year is known already so we're in a really strong place."