Local contractor wins deal to provide ancillary civil engineering for the project's public realm works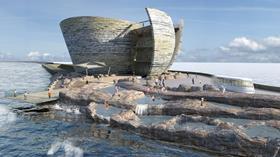 Civil engineering contractor Alun Griffiths has been named preferred bidder on one of the main civil engineering packages on the £850m Swansea Bay Tidal Lagoon project in Wales.
The Welsh firm has won a £25m contract to deliver the ancillary civil engineering for the project's public realm works, which includes the breakwater surface, roads, slipways, utilities and landscaping.
The latest order follows Laing O'Rourke's £200m key civils contract to deliver the 1,345ft long turbine house and sluice structure block, which will produce energy from the lagoon once the project is complete.
Local contractor Griffiths has already been awarded a design engineering contract to the Swansea office of engineering consultants Atkins and a landscape architecture contract to Cardiff architects TACP.
Andrew McNaughton, who joined last month as Tidal Lagoon Power's director of engineering and construction and will lead the delivery of the Swansea Bay Tidal Lagoon, said: "In delivering the early phase works for TLSB, Alun Griffiths will take us a step closer to realising our vision.
"Their use of a local workforce and materials underlines our commitment to the community of Swansea."
Martyn Evans, executive director at Alun Griffiths said: "This is a major contract for our business and the lagoon will be an iconic piece of infrastructure for Wales.
"We've heard so much about the project and having now seen it at close quarters, I am convinced that the reality will be every bit as compelling as the vision."
Following advanced works and value engineering, a fixed price contract will be signed later this year for the main build.
Tidal Lagoon Swansea Bay Plc has also run tenders for the project's marine works package, the result of which will be announced shortly.
Further tenders for the construction of a Turbine Assembly Plant in Wales, and for the lagoon's public realm and buildings work will proceed through the summer.