Development director departs Chinese property firm before work starts on £900m One Nine Elms scheme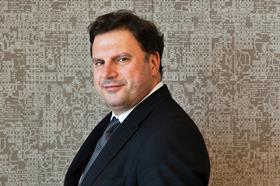 The development director of Chinese property giant Dalian Wanda's UK arm, Peter Amato, has left the business just 10 months after taking on the role.
Amato departed last month, before main construction works had begun on Dalian Wanda's debut UK project, the £900m One Nine Elms double towers in central London. Building understands part of the reason for Amato's departure was a difference of opinion between him and Dalian Wanda's parent company about which of the scheme's three shortlisted contractors - Mace, against two separate China State Construction Engineering Corporation joint ventures with Interserve and Atkins respectively - should win the job.
Last month Dalian Wanda awarded the job to the China State Construction Engineering Corporation and Interserve joint venture. Building understands from separate market sources that Amato favoured the Mace bid.
A spokesperson for Dalian Wanda confirmed Amato had exited the company but declined to comment on a reason.
Last summer Dalian Wanda invited 10 contractors to pre-qualify for the One Nine Elms job. At the time it was thought no Chinese firms were being considered, with China State's two divisions only entering the fray later in 2014. The One Nine Elms scheme is a debut UK project for China State Construction Engineering Corporation, the world's largest global contractor, giving it a foothold in the UK market for the first time.
Amato was previously development director for Qatari Diar in the UK, where he helped to buy and work up plans for key London sites, including the Shell Centre and Chelsea Barracks, and spoke of doing a similar job for Dalian Wanda. He had said he expected the Chinese firm to develop "several schemes" in the UK within five years.