RICS housing market survey finds prices rose again last month and are expected to continue to increase well into the new year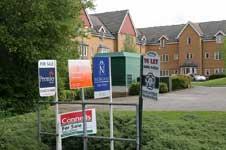 House prices rose again last month and are expected to continue to increase into the new year as demand far outstrips supply, the latest survey of chartered surveyors has found.
The RICS residential market survey found that 59% more chartered surveyors across the country predict house prices to continue their upward trend rather than fall back over the coming three months, with a net balance of +76% expecting prices to continue to rise as we head into the new year.
The RICS said this was the highest reading since September 1999 and demonstrated "the impact that the recovery in demand allied with anaemic supply is having on the housing market".
The survey also found that last month prices continued to rise, as a net balance of +58% more respondents reported price growth, up from a balance of +57% in October.
The RICS said each region of the UK saw prices rise for the second successive month.
"While there are still some areas of the UK that are struggling, it appears that, on the whole, the regional markets are now responding to the incentives provided by the government and better economic news," the RICS said.
The continued spike in house prices comes as Bank of England governor Mark Carney said the Bank would act to stop the housing market growing at "warp speed".
According to reports, Carney said that the bank was concerned about the "potential" for a bubble in the UK housing market, and that it would tighten lending requirements if needed.
"There is a history of things shifting in the UK, and of the housing market moving from stall speed to warp speed, and [of] underwriting standards slipping. We want to avoid that," he said.
This comes after the Bank scrapped the Funding for Lending scheme for mortgages last month.
Simon Rubinsohn, RICS chief economist, said: "It's no secret that the housing market is on the way up and prices are surging ahead in many parts of the country.
"The Bank of England's recent decision to withdraw the Funding for Lending scheme – which allows banks to borrow more cheaply and pass the benefits on to mortgage applicants – could well have some impact on the number of people able to purchase a home.
"Although the improvement in wholesale and retail funding markets may mean the impact on mortgages is relatively limited.
"One thing we are very concerned about, however, is the lack of both new and existing homes coming on to the market.
"As the Chancellor pointed out last week, housebuilding is on the up, but it is rising nowhere near quickly enough to make up the shortfall that has built up in recent years.
"If there is not meaningful increase in new homes, the likelihood is that prices, and for that matter rents, will continue to push upwards making the cost of shelter ever more unaffordable."