Club now admits new ground won't be ready until March at the earliest
Spurs has been forced to concede that its Champions League game against Borussia Dortmund next month will be played at Wembley Stadium as its new stadium won't be ready until March at the earliest.
The club put out a promised bulletin on the stadium's progress this morning after an update from main contractor on the scheme Mace.
In August, Building revealed that faulty wiring was behind the delay with Mace having to carry out remedial work on around 12,000 fire alarms.
The club also said Premier League home games against Watford on 30 January and matches against Newcastle United on 2 February and Leicester City on 10 February will all now be played at its temporary Wembley home.
It means the club will have played 13 of its scheduled 19 home games at Wembley and last week Cardiff City manager Neil Warnock said Spurs should now be forced to play at the venue for the rest of the season to ensure fairness in the competition.
Its game against Dortmund on 13 February has been switched to Wembley while it added that a potential home fifth round FA Cup tie on the weekend of 16/17 February will also be played at Wembley.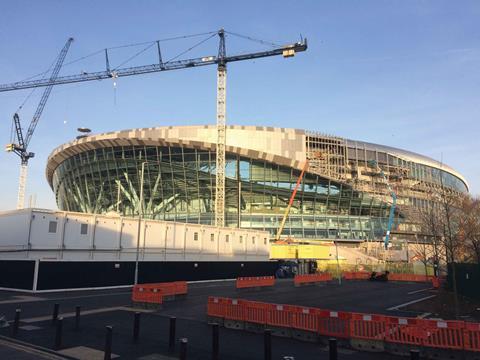 In its update, the club said: "The past month has seen remedial works take place, software issues resolved and corrected safety equipment installations increase. Testing has also continued.
"We are now liaising with the contractors and building control at Haringey Council to determine a schedule of commissioning, building test dates and building control sign-offs, along with formal test event dates."
Chairman Daniel Levy added: "We shall now seek clarity in respect of building test schedules and test event dates and provide further information on these in the next two to three weeks."
Its first game in March is against north London rivals Arsenal, currently scheduled for 2 March.
The 62,000 seat ground was due to have opened in time for Spurs' game against Liverpool on 15 September last year meaning if it does open at the beginning of March it will be more than five months late.