Premier League leaders had been eyeing smaller firms for expansion
The covid-19 pandemic has pushed back Liverpool's £60m Anfield Road development with the delay set to reignite the interest of Tier 1 contractors in the job.
Earlier this year, Building revealed the club was looking at bypassing these firms in favour of smaller rivals for the work.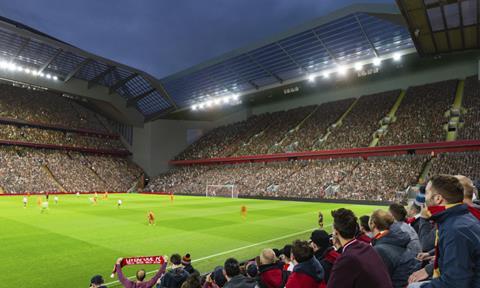 The club and its US project manager Legends are believed to have opened talks with several smaller rivals for the scheme including Buckingham and McLaughlin & Harvey – although the latter has since landed the £60m Commonwealth Games stadium in Birmingham, which has also been put on ice by the pandemic.
Tier 1 firms which had been looking at the scheme included Sir Robert McAlpjne and Laing O'Rourke, the firm building the new stadium for Liverpool's city rivals Everton.
Speaking about the delay, one source said: "It might be worth knocking on the door again to have another look. Who knows where people will be when this is all over."
The club wants to add 7,000 seats to the Anfield Road end of the ground – the stand opposite the Kop.
In February, Liverpool began the second stage of consultation on plans (pictured) by architect KSS to increase capacity at its Anfield ground to more than 61,000.
It had hoped to submit a planning application for the work this spring but the club, which is currently leading the Premier League by 25 points with nine games to play, has decided to delay the job by 12 months because of the construction timetable which requires the job to be completed between seasons.
The club's chief operating officer Andy Hughes said: "Given the challenges that many sectors are facing right now, including the construction, procurement and public sectors, we are taking a responsible approach to pause the project for at least 12 months.
"The complex build programme for Anfield Road is an 18 month process and needs two clear summer closed season windows in order for it to be successful. This is why we are pausing on the project for at least 12 months so the earliest we could complete the programme is summer 2023 rather than summer 2022 as originally planned. Given the planning application is no longer time-critical, it is our intention to submit our planning application at some stage during the next 12 months."
Liverpool raised Anfield's capacity to its current 54,000 when Carillion completed work on the £75m main stand in 2016. Runner-up in that race was Buckingham.