Paul Griffiths set to run huge Canadian metro scheme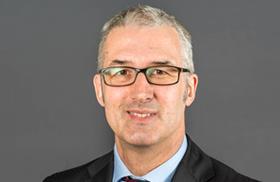 HS2 has announced that Paul Griffiths, the managing director for phase two of the project is set to leave the company less than a year after being appointed to the role.
Griffiths (pictured) is leaving to take on the role of program director on the $40bn Metrolinx scheme in Toronto, the largest public transit investment in Canadian history.
Griffiths, who will leave HS2 at the end of December, will move to Canada with his family at the end of the year.
HS2 said plans are now in place to find his successor.
Griffiths only took over as managing director of phase 2 of the link following the departure of Alison Munro in November last year.
He was previously the development director for the second phase of work on the line which runs north of Birmingham via north west England to Manchester and via the East Midlands to South Yorkshire and Leeds.
Before joining HS2 two years ago, Griffiths spent six years at West Midlands transport authority Centro as Metro and Sprint programme director and was responsible for the expansion of the light rail system in Birmingham.
He has also had roles at Metrolink, Manchester City council, as well as Mace where he spent five years as an operations director before leaving the business a dozen years ago.
It is the latest in a number of high profile departures to hit the project.
Former chief executive Simon Kirby left the project for Rolls Royce in September 2016, while then HR director Peter Gregory and head of finance Steve Allen resigned in the wake of the redundancy payment scandal in the second half of last year.
Munro, who Griffiths replaced and was also the inaugral chief executive of HS2, has also left the company, while commercial director Beth West departed for Landsec in April 2017.
Former chairman Sir David Higgins left HS2 last month. He has been replaced by former Crossrail chairman Sir Terry Morgan.