London developer to build 449 homes in two towers as part of redevelopment of Colville Estate in Hoxton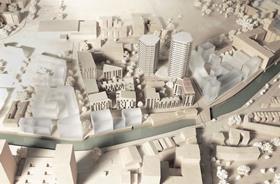 London developer Anthology has been chosen by Hackney Council to deliver a 198-home scheme in Hoxton, that will also deliver 449 new council homes.
The developer, which is backed by funds manager Oaktree Capital Management, will deliver two new 20 and 16-storey high towers in Hoxton designed by David Chipperfield and Karakusevic Carson Architects.
The new scheme forms the third phase of Hackney Council's redevelopment of the 20th century Colville Estate with 198 apartments made available for private sale with the rest built for social rent and shared ownership.
The new homes at One Parkside forms the third phase of Hackney's redevelopment of the Colville Estate. The two new towers will replace an existing 12-storey building.
The site, bordered by Shoreditch Park to the south and Regent's Canal to the north, has detailed planning consent with construction due to start in 2016 and completing in 2018.
Cllr Philip Glanville, Hackney Council's Cabinet Member for Housing, said: "This is another step forward to providing much-needed high quality new homes for Colville residents at social rents, in the absence of government funding, and with this phase receiving the clear support of the estate. Following a tender process, Anthology was selected because of its shared vision for the area, its collaborative approach and commitment to delivering homes that will be part of a new neighbourhood with first class design."
Mark Dickinson, managing director of Anthology, commented: "We are excited to be working with Hackney Council, local residents and our professional team to begin work on a new chapter to enhance the neighbourhood, while creating much-needed, quality new homes for Londoners."