Supported by Ramboll the consultant will work with Network Rail's existing teams to bring the digital modernisation of the UK's railways to fruition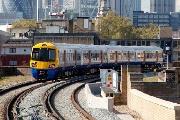 Network Rail has appointed Arcadis as a programme partner to work to help shape its digital railway programme prior to implementation.
The primary owner and manager of the UK's rail network Rail is aiming to increase the capacity on the country's rail network and speed up services by accelerating its digital modernisation.
Arcadis, supported by engineer Ramboll, will provide a range of services including technical leadership; engineering management; project management; stakeholder engagement; risk management; business change and industry training, and data and asset management, on an initial 12-month contract.
The consultant will also head up the development of the Digital Railway Toolkit – a set of requirements that will support the roll-out of the Digital Railway on a number of routes – and work with route teams, train and freight operating companies, rolling stock companies, industry supply chain and other stakeholders to develop candidate schemes for digital rail.
In addition Arcadis will support the preparation of the outline business cases to inform the next funding and regulatory period, known as CP6, and spearhead the creation of the Digital Railway Academy to identify future training requirements and ensure the supply chain is equipped to respond to Network Rail's long-term vision.
Chris Pike, UK rail sector director at Arcadis, said: "The Digital Railway is a natural evolution for the rail industry, but it will have a revolutionary impact on the network by increasing capacity, improving punctuality, safety and resilience, and significantly enhancing the passenger experience.
"Recognising the tangible benefit that rail digitisation has already had across Europe, this programme will keep Britain at the leading edge of the rail industry and will contribute substantially to increasing growth and productivity right across the country."