Consultant also posts drop in third quarter profit and revenue, partly blamed on Brexit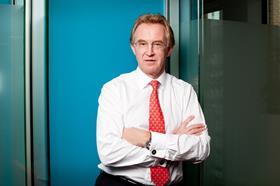 Arcadis chief executive Neil McArthur is leaving the consultant after clashing with the board over the future direction of the £3bn-turnover firm.
Renier Vree, chief financial officer at Arcadis, will replace McArthur temporarily until a permeant replacement is found.
In a statement Arcadis said McArthur (pictured) was leaving "by mutual agreement" after "a difference of opinion on Arcadis' path moving forward".
Arcadis will honour McArthur's base salary for the year of €630,000 (£563,000).
The announcement came as Arcadis posted a drop in third quarter profit and revenue this morning, which it partly blamed on the UK's vote for Brexit.
Underlying profit for the period dropped a third to €38.6m (£34.5m), down from €57.5m (£51.4m) the previous year. The firm blamed the Brexit vote and cost pressures.
Meanwhile, revenue dropped 7% to €797m (£712.3m), down from €854m (£763.3m), which it attributed to the weaker pound post-Brexit vote, continued difficult trading in Brazil and intense competition in North America.
Commenting on McArthur's departure, Arcadis chairman Niek Hoek said: "Neil McArthur has provided Arcadis with excellent leadership since he became CEO in 2012.
"Neil and the Supervisory Board have agreed that it is the right time for a new leader to take Arcadis forward. We will begin a search internally and externally for a new CEO."
McArthur said: "I am proud of what we have achieved as a company over the past five years.
"Now it's time for someone else to lead Arcadis through the next stage of our journey. I have no doubt that our people will continue to deliver exceptional and sustainable client solutions, and improve quality of life across the globe."