Consultant buys Birmingham-based firm run by Louise Brooke-Smith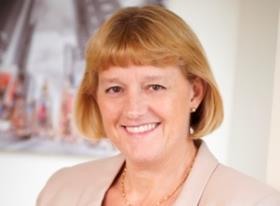 Arcadis has bought a Birmingham-based planning and development consultant run by former RICS global president Louise Brooke-Smith.
The 8-strong firm, Brooke Smith Planning, was founded in 1994. Brooke-Smith (pictured) will now head up Arcadis' UK-wide planning capabilities and a new 'social value' service.
Brooke Smith Planning's clients include Barratt Homes, Marriott Hotels, the MOD, Vinci Construction and Birmingham City University.
Its recent projects have included securing planning consent for a medical hub in Birmingham's Egbaston Village, gaining approval for the relocation of Birmingham Dog's Home and winning planning for the first drive-through Costa in the city.
Arcadis said it intends to launch a new social value service - overseen by Brooke-Smith - that will analyse how businesses can improve the quality of life of their clients, employees and the wider community.
This is the latest acquisition for Arcadis, which bought UK engineer Hyder Consulting over three years ago for £296m and QS EC Harris over five years ago for £253m.
Last month Arcadis reported writedowns totalling €19.4m (£16.6m) in relation to legacy claims against Hyder, as well as costs of €28m (£24m) relating to restructuring, acquisition and integration charges.
The firm also reported that Brexit had impacted on its UK building revenues as clients delayed investment decisions, but its UK revenue as a whole edged up thanks to increased infrastructure and utilities work.
Arcadis UK chief executive Alan Brookes, said: "Social value is an increasingly important part of our ongoing three-year plan, in terms of our staff, our clients and the communities they work with. We are excited to be welcoming Louise to add to our existing work in this arena, and will be explaining more about our strategy over the coming months."
Louise Brooke-Smith, UK head of town planning and head of social value at Arcadis, said: "The devolution agenda, and all that it brings with it, has only increased the need for the very best when it comes to land use planning and development advice.
"Joining Arcadis at this key time means that we are able to offer the very best to both the nation's businesses and the communities they serve."
Arcadis managing director environment Andy Limage, said: "This is a really significant move for Arcadis here in the UK. Adding the expertise and vast experience of such a well-respected town planning consultancy to our existing offering is good news for our clients and our business.
"Having worked on some of the most complex and important town planning projects the country has seen in recent times means our clients are set to benefit from a genuinely first class team."