RIBA and Institution of Structural Engineers call for government to lift London 2012 marketing gag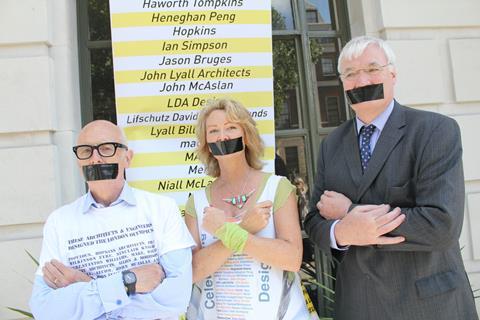 The presidents of RIBA and the Institution of Structural Engineers have hit out at the government's failure to intervene to allow construction firms that have worked on the Olympics to market their involvement.
Speaking at RIBA's Portland Place headquarters after unfurling a banner containing the names of all the architects that have worked on the Olympic Games, RIBA president Angela Brady called upon the government to act to "lift the gag" covering all those who have worked on the 2012 Games.
Since January, Building has used its 2012 campaign to highlight complaints from firms that the marketing restrictions have prevented them getting due credit for their Olympic achievements with the issue gaining greater prominence as the Games have approached.
Brady said: "We call upon all those with involvement in organising the games to lift this gagging order and allow those people to celebrate the construction of this glorious platform that has enabled the games to go ahead."
She added that the government's current position, where it has said it hopes to have a solution to the problem by the end of 2012, was "absolutely not good enough." She said: "It's big boy bullying of small firms and it's against everything London stands for."
John Nolan, ISE president, said: "This thing is an exemplar project, but the people who've produced it aren't allowed to advertise themselves. It's a huge problem for the British economy, and it's something you'd expect a conservative-led government to understand."
Brady and Nolan were joined by New London Architecture chair Peter Murray and a number of other architects who contributed to the 2012 construction effort, all wearing clothes emblazoned with the names of UK firms who have worked on the Olympic project.
Russ Edwards, associated director at DRMM, one of the architects who worked on the Athletes' Village, said: "It is frustrating to see [prime minister David] Cameron hosting overseas business summit, when we've been effectively excluded from talking about our involvement."