Confidence has sunk to five-year low, according to WA100
Confidence in global work prospects for architects has slumped to a five-year low according to the WA100 annual survey of the world's biggest practices by Building's sister title Building Design.
The report, which ranks firms bynumber of architects employed, reveals just 55% of practices think the global construction economy will grow over the next 12 months, compared with 72% last year.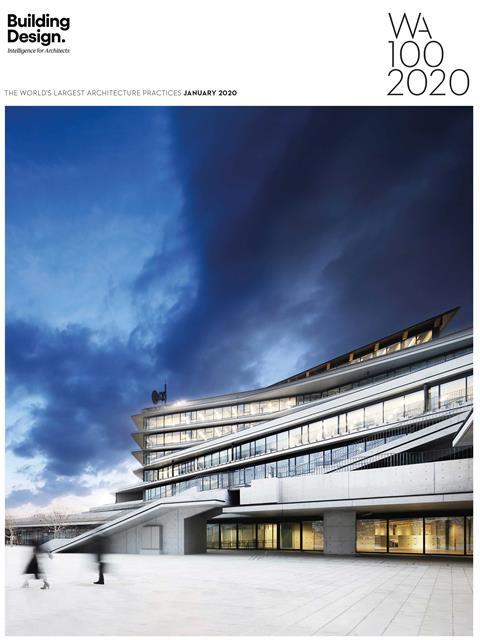 Architects were most positive about work prospects in North America and the Pacific Rim, which includes China, with 78% saying they expect growth in both markets during the next year.
But optimism has softened since last year, when 92% of architects said they expected growth in North America and 83% in China.
The drop in confidence has been matched by a 1.3% fall in the numbers of architects employed by the world's top practices to 37,277. Last year, the total number of architects employed by the 100 leading firms leapt by 6.45% to 37,787, the highest number ever recorded by the WA100.
The top 10 firms this year increased the number of architects they employ by just 0.05%, a drop on last year's 7.3% increase. This takes the numbers of architects employed by the top 10 firms to 13,136.
US practice Gensler retained the top spot for the fifth year running with 2,817 architects, up 7% on last year. Japanese firm Nikken Sekkei and US giants Aecom and HDR retained second, third and fourth positions respectively for the third year running.
The number of Chinese firms in this year's list hit 10 – Shanghai-based Arcplus entered the rankings for the first time, coming in at number 28 with 432 architects. Another Shanghai-based firm, CCDI, was new in 65th place.
Doug Wignall, president of HDR, said Chinese designers are gaining experience to go it alone after building up their know-how with international firms.
He said: "Eventually they are going to be able to take on projects a tier or two below the projects they are working on at the large global practices."
Foster + Partners was knocked off the UK's pole position by BDP, which came in at 24. The architect of the Bloomberg building tumbled 13 places to 27th due to a change in the way it calculates its architect numbers.
Japanese-owned BDP increased its numbers by 88 after joining forces with Toronto-based firm Quadrangle in February.
The UK's third largest practice, Allford Hall Monaghan Morris, climbed 14 places to 39th spot with a 25% increase in numbers, taking it to just shy of 300 architects.
Other UK firms in the top 100 includes Allies and Morrison, Feilden Clegg Bradley Studios and heritage specialist Purcell.