Staffing returns to 97% of levels a year ago, according to latest Future Trends survey
Architects are reporting workloads and staffing have recovered to near pre-pandemic levels, the latest RIBA Future Trends survey found.
Workloads are at 90% of what they were a year ago and rising, while staffing levels have rallied to 97%. Reports of personal underemployment are decreasing.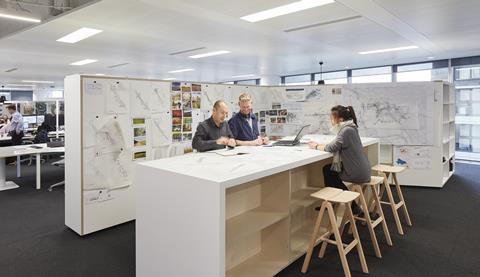 The figures come from the RIBA's unexpectedly upbeat October survey, although the research was done before the second lockdown and furlough extension were announced. November's survey is expected to record a slight drop in confidence, although news of a potential vaccine may temper that.
It comes as the ONS reported construction output increased by a record 41.7% throughout the third quarter of 2020 – although it slowed significantly in September.
And AIM-listed builder's merchant Brickability said it was experiencing a V-shaped recovery as demand for materials from housebuilders recovered.
October's RIBA Future Trends Workload Index found confidence holding steady month-on-month, with an overall balance figure of +9. The improving picture is a result of a strengthening private housing market and optimism about future work for practices outside the capital.
A third of practices are expecting workloads to increase in the coming three months, with confidence slowly growing in practices of all sizes, especially medium and large practices.
London remains the least positive region, with concerns about future profitability. Some 12% of practices in the capital expect falling profits to threaten their viability, compared to the national average of 6%.
However, confidence in London and the south is rallying. The south posted a balance figure of +16, up from -2 in September. The capital was only just in negative territory about future work, with a balance figure of -1. This is the eighth successive negative figure from London but the highest balance figure since March, when the pandemic took hold.
Wales and the west remain the most positive areas, with a balance figure of +25, although this is down from September's high of +40. The figure for the north was +19 but the Midlands and East Anglia slipped back into negative territory, dropping 17 points to -7.
Private housing was the area fuelling the optimism, returning a balance figure of +12, down from +17 in September. The commercial sector continued its slow recovery, rising 3 points to -12. There were reports of hospitality projects stalling.
The Staffing Index returned to positive territory for the first time since February, rising four points to +1.
More than 80% of practices expect permanent staffing levels to remain consistent over the next quarter but the anticipated demand for temporary staff continued rising, to +4.
In Wales and all other UK regions, practices expect to take on permanent staff but in London 15% expect to be employing fewer staff in the next three months. However that is an improvement on September's 22%.
Adrian Malleson, the RIBA's head of economic research and analysis, said the results showed slow but steady progress, but there remained "significant concerns".
"The next few months will be critical for UK architects," he said. "How the government negotiates Brexit, how the pandemic is managed and how government spending promises are realised will all directly affect architects' workloads."
The number of staff on furlough decreased to 6% in October, down from 22% in May.
Overall, 3% have been made redundant since the start of the pandemic, though 19% are working fewer hours.