New National Infrastructure Commission chair warns on Crossrail 2 and northern powerhouse schemes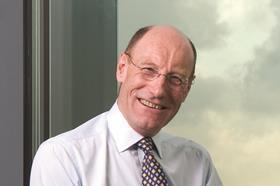 The National Infrastructure Commission has said the government needs to get a timetable in place for Crossrail 2 and the Northern Powerhouse Rail programmes.
NIC chair John Armitt, who took over the role from Lord Adonis after the Labour peer quit at the end of last year, said "there was a disappointing lack of pace in several areas" adding: "It is hugely disappointing that nearly two years after the Commission's reports on Crossrail 2 and Northern Powerhouse Rail, the government still has not firmly committed to a timetable for funding or got a clear plan for delivering either of these nationally significant projects.
"It is vital that decisions on both schemes are made this year and that the government commits to the long-term vision that supports the recommendations we made."
Consultations on the Crossrail 2 project hit another snag, with the Transport for London commissioner conceding last month they would not take place until the end of 2018.
Speaking to the London Assembly Budget and Performance Committee, Mike Brown said the delay was caused by a need to wait for an independent finance review.
Brown added he was still hopeful of being able to submit the application to parliament to build Crossrail 2, which will run from Wimbledon in the south-west through to New Southgate and Tottenham in the north, by early 2020.
And Armitt added: "It is imperative that a Parliamentary vote on the expansion of Heathrow takes place no later than this summer. Any further delay would be irreconcilable with the Government's commitment to deliver the infrastructure the country needs."
The schemes are part of 12 priorities the NIC last July said the government needed to focus on which also include HS2 and HS3 along with a number of crossings in east London including the Silvertown Tunnel and the Lower Thames Crossing.
But Armitt said there had been progress made on a number of other issues including increasing digital capability. He added: "The significant funding at the budget to transform housing and transport in the Cambridge-Milton Keynes-Oxford growth corridor – and the appointment of a champion – will give hope to businesses and families in the area facing high house prices and poor transport connections."
In December, the NIC proposed a new town for 200,000 people along the Cambridge to Oxford corridor via Milton Keynes. Currently only a recommendation, it would be located in an area between Bicester in Oxfordshire and Bletchley in Milton Keynes.
An ideas competition for the Oxford-Cambridge corridor was won in December by a team led by Tibbalds Planning and Urban Design.
NIC's top 12 priorities
1. Heathrow 3rd runway
2. High Speed 2
3. High Speed 3
4. Crossrail 2
5. Eastern crossings of the River Thames
6. Flexible power systems
7. Renewable energy
8. Decarbonisation of energy
9. Hinkley Point C
10. Broadband and mobile
11. 5G mobile
12. Water and flood defence infrastructure