Sir John Armitt has said he would be "very disappointed" if Labour was to scrap its commitment to HS2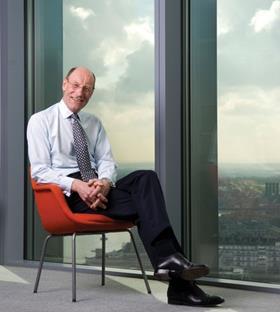 Sir John Armitt has said he would be "very disappointed" if Labour was to scrap its commitment to the high-speed rail line to the north of England due to "short term considerations".
Speaking to the BBC's Radio 4 Today programme this morning, Armitt, the former chair of the Olympic Delivery Authority who was commissioned by Labour to produce recommendations on how to take the politics out of long-term infrastructure planning, said he still believed Labour was committed to the £43bn HS2 project.
His comments came after Ed Balls yesterday said there was "no blank cheque" for HS2 and Labour may withdraw its support for the project if it became too costly.
This month Armitt published his report for Labour on infrastructure planning, which called for a new independent Infrastructure Commission to be established to make long-term strategic decisions over major infrastructure priorities.
Yesterday Balls said Labour would follow Armitt's recommendation and set up a Infrastructure Commission. But the shadow chancellor also cast doubt over Labour's commitment to HS2.
This morning Armitt said: "I mean politics is politics. You should not get pushed off it for short term considerations. That would be my belief.
"I would be very disappointed if that was happening in this case. I think we've had political consensus around HS2. It's a very large project. It requires a political consensus frankly to be delivered at the end of the day and I think the value of HS2 to the country long-term is still absolutely certain and I think is understood by senior politicians in all the major parties.
"I think what Ed Balls was doing today was simply setting out his credentials as a future chancellor."
"What Ed Balls was clearly doing today not surprising given we have an election coming up.
"He was reminding people that the Labour Party will seek to be just as strong on managing the economy and therefore those who are in charge of HS2 should recognise that in developing the project the Labour Party will want to see, just as I'm sure the Government want to see, that it is delivered in a value for money way.
"I didn't hear anything said by Ed Balls which would suggest that we weren't going to proceed with HS2.
"In fact he started off by saying that he supported HS2 but then was reminding everybody that it had to be delivered in a way that was clearly cost effective and I think everybody would hope that that would be the case."