But CITB says 300 still looking for new employers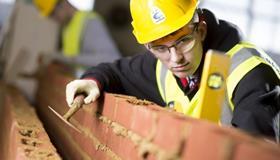 Just 20% of Carillion's 1,400 apprentices stranded after the firm's collapse in January are still looking for new employers.
The CITB said that 320 apprentices at the bust firm were still looking for a new home with the training body's Deborah Madden, who has been the operational lead on the team looking to reallocate the 1,400 apprentices, adding: "The response has been incredible, the industry has really stepped up. We don't feel it will be at a detriment to other apprenticeship places.
"There's no indication that it has been affecting the traditional recruitment of apprentices. It seems employers are creating places and using this to fill skills gaps.
"Everyone from small firms up to major contractors has contributed to finding new places. A lot of the major contractors have worked with their supply chain to reinforce the need to find new places for these apprentices."
Most of the apprentices left were carrying out training in bricklaying, carpentry and joinery mainly in northern towns and cities including Liverpool, Manchester, Sunderland and Middlesbrough.
But CITB did confirm the collapse had cost the industry a number of apprenticeships, with a chunk of Carillion's apprentices leaving construction after the firm went bust.