Revenue up 4%, while operating profit rise includes proceeds from property sale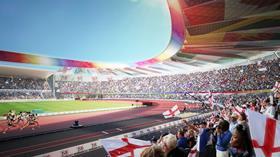 Arup chairman Gregory Hodkinson has described the engineering giant's latest results as a "reasonable financial performance", after reporting revenue up nearly 4%.
In the year to the end of March 2018 Arup generated revenue of £1.56bn and an operating profit of £113.2m, up 57%, which included proceeds from the sale of a building it owned in the west end of London to the Workspace group.
Stripping out the disposal, a move which generated a profit of nearly £46m, Arup's overall operating profit came in at £67.4m, down 7% year-on-year.
Hodkinson said the firm, chosen last month to deliver the redesign of Birmingham's Alexander Stadium (pictured) ahead of the city hosting the Commonwealth Games in 2022, had "achieved a reasonable financial performance that is well aligned to our strategic objectives".
Highlighting the risks that the business faced Hodkinson said it would be "remiss of me not to address geopolitical risk including Brexit.
"As a firm with significant revenue from UK operations we are mindful of the potential macro-economic effects of major policy changes, including our ability to attract the highly skilled people we continue to need."
Yesterday Theresa May confirmed her plans to scrap freedom of movement for EU citizens as part of her proposed withdrawal agreement with the EU and require that people who wanted to come and work in the UK after Brexit would have to prove they had the right level of skills for the country's needs.