The team also includes Gardiner & Theobald and Grimshaw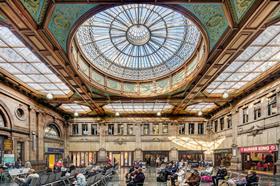 A team lead by Arup has been selected to design a masterplan for Edinburgh's Waverley Station.
The team, who will draw up a masterplan for Scotland's second busiest station over the next 12 months, is made up of architects Grimshaw and Allan Murray Architects, real estate experts JLL, cost consultants Gardiner & Theobald, heritage professionals Jura Consultants, and consultation specialists Streets UK.
The Waverley Masterplan, which is being spearheaded by station owner Network Rail and the City of Edinburgh Council, will consider the future growth anticipated at the station, the impact of city centre developments and urban planning trends.
An options appraisal will be developed to consider short, medium and long term objectives before wider consultation is undertaken with customers, user groups and other interested parties.
Guided by the Masterplan steering group, the team will begin consultation with stakeholders in autumn before publishing a set of recommendations by mid-2019 which will establish a vision for the future of the station and will be used to phase forthcoming investments.
Alex Hynes, managing director of the ScotRail Alliance, which includes Network Rail Scotland, said: "Waverley has seen its footfall more than double from 10 million to over 24 million within the last ten years and estimates suggest that it will almost double again, to 40 million, by 2024. Such a steep increase is a positive indicator of the railway's economic influence on the city and a clear sign that further investment will be required.
"The Waverley Masterplan will help us to coordinate our approach and to tackle some of the issues that an increasingly busy Waverley Station raises. We're pleased to have Arup on board to help us develop that plan."
The Edinburgh Waverley Masterplan follows in the footsteps of other successful joint initiatives undertaken in other major city centre stations. Kings Cross/St. Pancras, Waterloo, Leeds, Bristol Temple Meads and Birmingham New Street have all been through similar processes during the last decade.