O'Brien Contractors has started works to enable the move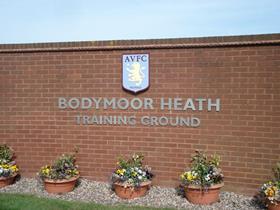 Aston Villa has been forced to relocate its training ground to make way for HS2.
Part of the training ground of the championship club, which narrowly missed out on promotion to the Premiership last month, lies in the path of the £56bn rail route.
O'Brien Contractors has secured a contract to carry out enabling and infrastructure works to allow for the relocation of Bodymoor Heath near Tamworth.
All the academy pitches and two first team pitches will be lost once construction of the high-speed rail development begins.
O'Brien will provide associated infrastructure works for the construction of nine pitches and one 3G pitch.
A spokesperson for HS2 said: "A portion of Aston Villa's Bodymoor Heath training ground is needed for phase one of the HS2 project."
Tony Mitchell, operations manager at O'Brien, said: "We are delighted to have been chosen by Aston Villa to help relocate their new training facility.
"The HS2 scheme will have a major impact locally and on the Recon training facility, which will lose a large portion of the current training ground.
"The project is part of the greater plan to allow the football club to maintain existing facilities and replace those affected by HS2."
Work is set to wrap up in September.