Robert Bird's work includes 100 Bishopsgate and Elephant & Castle regeneration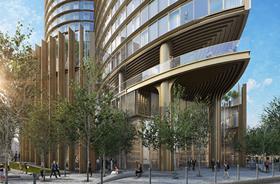 An Australian consultant working on Lendlease's Elephant & Castle regeneration in south London has been snapped up by Singapore rival Surbana Jurong.
Set up in 1982, Brisbane-based Robert Bird Group has grown to 600 staff and 10 offices worldwide including a London outpost in Southwark.
Other schemes in the capital it is currently working on include the 40-storey office tower being built by Multiplex at 100 Bishopsgate along with the 67-storey Spire tower (pictured) in Canary Wharf designed by US architect HOK and which will be built by Aecom.
The firm has also worked on Westfield's shopping centre at White City along with Land Securities mixed-use Nova scheme in London's Victoria built by Mace and is working on the same developer's scheme at 21 Moorfields, the Wilkinson Eyre-designed tower that is due to go up at the western entrance to the new Liverpool Street Crossrail station in the City of London.
Surbana Jurong has been raiding Australia for businesses recently with the firm buying Melbourne-based engineer Snowy Mountains Engineering Corporation last year for £220m.
The eponymous founder of Robert Bird said: "Joining the Surbana Jurong network gives the Robert Bird Group greater access to capital, greater resources and greater scale. This will…open the door to further growth for our firm across Asia and in Africa."
He added that the name would be retained by its new owner, which has a turnover of just over £700m and employs more than 13,000 people across 44 countries.