Financially-troubled architect reports drop in business after problem project in Abu Dhabi but cuts losses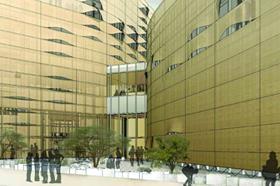 Financially-troubled architect Austin-Smith:Lord has reported a 41% fall in revenue during the year in which it entered an arrangement with its creditors to stave off insolvency.
In accounts for the year to 31 March 2012, only now filed at Companies House, the firm reported revenue of £7.3m, down from £12.4m the previous year - a fall of 41%.
The firm was forced to enter a company voluntary arrangement (CVA) to keep itself solvent in November 2011 after its Abu Dhabi client Adach refused to pay £11.5m in fees for work on the Qasr al-Hosn cultural quarter in Abu Dhabi.
In January the firm said it was still owed £4m by the client but is close to reaching a settlement that would see it paid £1.9m of the money.
Speaking to Building, Neil Chapman, director at Austin-Smith:Lord, said the company was now profitable, with the firm reporting an operating profit of £145,796 - up from a loss of £591,587 the previous year.
But the firm reported restructuring costs of £270,326 as it cut staff numbers from 194 to 114 over the period, which pushed it to a pre-tax loss of £173,179 - down from a loss of £631,532 the previous year.
Chapman said: "This is the fallout from the CVA and the impact on the business. Obviously downsizing the business on the back of a significant [problem] project you cannot do overnight… and we cannot shirk those costs."
The firm also slashed its debts to trade creditors which dropped from £2.4m in 2011 to £295,187 in 2012.
In the accounts, Austin-Smith:Lord partner Iain Wyllie said: "The members are confident that they are well capitalised and have an ample pipeline of business to continue to provide the highest level of quality of service to our clients for many years to come."