So-called retentions bill had been due to have its second reading today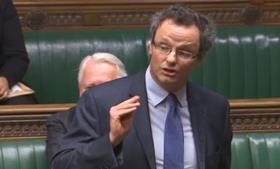 The second reading of the bill which aims to protect retentions in construction has been pushed back in order to get the public support of government.
Tory MP Peter Aldous (pictured) had been scheduled to give the second reading of his Construction (Retention Deposit Schemes) Bill 2017-19 in the House of Commons today but the decision was made on Wednesday to delay until 15 June.
Rudi Klein, chief executive of the Specialist Engineering Contractor's Group, one of the organisations that helped develop the bill, said the delay gave time for government to consider its position.
He said: "The pressure is on government to come out and support it, it is something the whole industry wants. Ministers are sympathetic but we are looking for government to come out and support the bill publicly.
"Time is on our side. This move gives government more time to think about its position, which could be useful."
Klein said the other reason for moving the bill's reading came down to logistics.
"[It's] simply due to the number of private members bills and we were a bit concerned whether there was enough time to get to the Aldous Bill," he said.
"We wanted to put the bill forward at a time where it was most likely to get the floor time in the House that it needs."
Alexi Ozioro, public affairs and policy manager at the Building Engineering Services Association, another trade body who helped draw up the bill, agreed the delay was a positive.
He said: "The Aldous Bill has generated a tremendous level of political and industry support. The delivery of the petition this week to Number 10 has already seen an additional 10 MPs and two more industry bodies joining the campaign. The momentum is clearly with the reform.
"Clearly the campaign continues to grow and more can be done. The delay of the Second reading to June gives more time to grow the support for change."
"The Second Reading is where most legislation will fail, so being given another two months to grow the campaign is a great development."
The number of MPs in support of the bill now stands at 130, while the coalition of trade bodies is now at 78.
High-profile MPs backing Aldous include defence secretary Gavin Williamson, former chancellor Ken Clarke and Liberal Democrats leader Vince Cable.
The bill, which had its first reading six days before Carillion collapsed, wants to ensure retentions are protected in special ring-fenced deposit schemes, to minimise damage to the supply chain in the event of insolvencies.