Road users complain of 'chaos' after section of the motorway failed after roadworks last night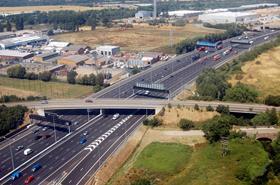 The Balfour Beatty and Skanska joint venture responsible for maintenance work on the M25 is racing to repair failed sections of the M25 today, after sections of the motorway failed due to roadworks carried out last night, damaging 25 vehicles.
Connect Plus - a Balfour Beatty, Skanska, Atkins and Egis joint venture that runs the M25 - was main contractor on overnight roadworks which "failed to set".
The joint venture is now carrying out emergency repairs using "quicker setting materials" to fix three failed sections of the motorway today.
The Highways Agency closed three lanes of the M25 between junction nine and 10 of the motorway today after a pothole and two other deterioriating sections of concrete were discovered.
A Highways Agency spokesperson said: "Concrete repairs carried out overnight failed to set."
The closed lanes have caused major traffic chaos and tailbacks on the M25 today.
The Highways Agency spokesperson added: "A full investigation is being carried out."
A spokesperson for Connect Plus said: "Three lanes on the anti-clockwise M25 remain closed as we work to investigate the cause of, and to repair a defect in the road surface.
"Safety is our top priority and we are doing all we can to reopen the lanes quickly as possible.
"In the meantime we advise drivers to avoid this section of the anti-clockwise M25 and seek alternative routes."
The Connect Plus consortium secured a 30-year PFI deal to upgrade and maintain the M25 in 2009.