Exclusive: Investigations launched after failed motorway repair work turns London circular into 'road to hell'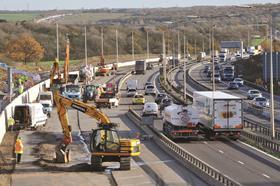 The Balfour Beatty and Skanska-led joint venture responsible for the £6.2bn M25 PFI has shelved a programme to replace concrete sections of the motorway while it investigates what caused its repairs to fail last Friday, damaging 25 vehicles.
The joint venture will also face a financial penalty for the 24-hour closure of three lanes of the motorway between junction nine and ten on Friday.
The Highways Agency confirmed the Connect Plus joint venture, which also includes Atkins and Egis, is paid based on performance, including keeping the road available to traffic. When part of the road is not available, payment is reduced.
Connect Plus was main contractor on overnight roadworks that "failed to set" last Friday.
The closure caused traffic chaos, prompting road minister John Hayes to demand an urgent report from the Highways Agency into what had happened.
In an statement this week, Connect Plus said: "We are continuing our full investigation into what happened on the anti-clockwise M25 near Leatherhead last Friday morning.
"We know that a section of the carriageway failed to set properly following planned overnight maintenance. Similar planned repairs have been stopped while investigations into the cause of the failure are continuing; at this stage it is too early to speculate."
Following the failure Connect Plus repaired three sections of the M25 that had deteriorated using "quicker setting materials", enabling the motorway to fully reopen in the early hours of Saturday morning.
A Highways Agency spokesperson said overnight maintenance was using "a tried and tested technique that has been used since 2012".
The resulting closed lanes caused major traffic chaos and tailbacks.
AA president Edmund King has called for an inquiry into what went wrong, after describing the M25 as the "road to hell" last Friday.
The Connect Plus consortium secured a £6.2bn 30-year PFI deal to upgrade and maintain the M25 in 2009.