The deal covers building and civils in the south of England
Kier and Balfour Beatty are among the firms to have been handed places on a £200m Network Rail framework.
Set up to provide the delivery of buildings and civils works, contractors will be required to primarily carry out jobs across within the southern region.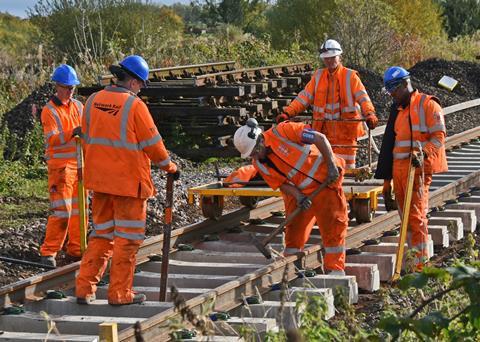 The framework can also be extended to other parts of the rail network if necessary.
It will run for an initial period of three years with options to extend by five further one-year extensions.
The deal has been divided into seven lots, made up of one buildings and civils "generalist" lot and six "specialist" lots.
The specialist lots will cover M&E, fabric and footbridge projects, as well as metallic structures, earthworks and masonry and concrete specialist.
A total of nine firms bid for the generalist lot, which was awarded to VolkerFitzpatrick, Balfour Beatty and Amalgamated Construction.
Between five and nine firms bid for each of the specialist lots, with two firms being awarded spots on each.
Southern building and civils framework
Lot no. 1: Buildings and civils
· VolkerFitzpatrick
· Balfour Beatty Rail
· Amalgamated Construction
Lot no. 2: Mechanical and engineering (M&E)
· B & M McHugh
· Quinn Infrastructure Services
Lot no. 3: Fabric (Canopy and platforms)
· BCM Construction
· Lundy Projects
Lot no. 4: Footbridges
· Nationwide Rail
· Taziker Industrial
Lot no. 5: Metallic structures
· Dyer and Butler
· Freyssinet
Lot no. 6: Earthworks
· Dyer and Butler
· Taziker Industrial
Lot no. 7: Masonry and concrete specialist
· Kier Integrated Services
· Nationwide Rail