New UK chief executive applauds efforts of staff in saving Northampton office from closure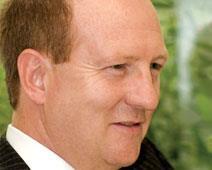 Balfour Beatty's new UK construction boss has not ruled out further office closures as part of the firm's ongoing business review but applauded the efforts of staff in the firm's Northampton office to save the branch.
Former Bovis boss Nick Pollard took over as chief executive of Balfour Beatty's UK construction arm in June at the same time as the company announced it would be closing regional offices in Dartford, Rochdale and Doncaster, putting around 200 jobs at risk.
The firm later announced it was also planning to close its Northampton office, but then accepted a proposal from the office's 120 staff that would keep the office open.
Speaking to Building on a tour of Balfour Beatty's Heathrow Terminal 2B project, Pollard said staff at the Northampton office had put together a good business plan with a pipeline of work.
"It was looking at a business plan, it was pipeline of work and what they needed to do it, how they'd do it and the rest of it. They've got a good business plan and the business has backed them. Why wouldn't we?" he said.
However, when asked if the closure of the other three regional offices marked an end to office closures he said: "Not necessarily, nor will it be the end of office openings either."
He added: "Will we continue to keep the business under review? Yes, because that's what a good steward does. You have to make sure the business is in the right shape to deal with the future."
Pollard said some of the 200 staff from the three regional offices that will close were being relocated to other parts of the business.
"The big point is that when you close an office, you might well be removing a business premises but you are not necessarily removing all of the people there. We shouldn't get hung up on the buildings," he said.
He said he was "really encouraged" by the state of the regional business and that it had "fantastic people and fantastic projects". He said it was "well poised" to take advantage of a "gentle rise" in the market for construction.
Balfour Beatty announced £50m profit warning in April, with Balfour Beatty Group chief executive Andrew McNaughton seizing control of the UK construction business, and former chief executive Mike Peasland stepping down to the role of managing director of the regional business, where around 75% of the £50m hit to profit was located.
Pollard said the business previously "took its eye off the ball a little bit" and "lost its focus".
He said: "Our focus needs to be on our customers, on delivering their schemes and on back-to-basics competent professional delivery of schemes on time first time, with great quality, on cost and with no nasty shocks or surprises. It's to that end that everyone is bending their minds.
"As long as we do that we will continue to compete successfully and we will learn better and better how to please clients."