Steve Marshall's total remuneration rose to £447,366 after stepping up to executive chairman for eight months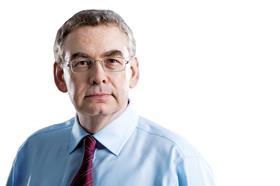 Balfour Beatty's chairman Steve Marshall saw his pay increase by two thirds in 2014 to £447,366, after stepping in to become acting executive chairman for eight months after Andrew McNaughton exited as chief executive last May.
Marshall's annual income was doubled from £265,750 to £531,000 on assuming the executive chairman's role to "reflect his additional responsibilities", Balfour Beatty said in its annual report published last week.
His total remuneration for the year ended at £447,366, reflecting four months spent on the lower pay level and eight months at the higher level.
Balfour Beatty reported poor results for 2014 in March, with a £304m overall pre-tax loss for the year and a £317m operating loss within its UK construction business, which was dragged down by problem jobs and dire results in its M&E division.
Marshall stepped back to the role of chairman on 1 January this year when Leo Quinn joined Balfour as chief executive. Marshall will be replaced as non-executive chairman by former BHP Billiton executive Philip Aiken on 26 March this year, with Aiken appointed on an annual income of £270,000.
The remuneration report within Balfour's annual report also confirmed Leo Quinn's base salary is £800,000 for 2015, although his total remuneration for this year could rise to £2.3m through performance and share incentives if Balfour hits its targets, and up to a maximum of £3.5m if these targets are exceeded.
Despite McNaughton stepping down on 3 May 2014, the remuneration report reveals the board agreed he should continue to receive a base salary, car allowance and pension allowance, amounting to £66,333 paid monthly from May 2014 to the end of the year.