Firm officially appointed to replace bust contractor Carillion
Balfour Beatty and the NHS trust behind the Midlands hospital left in limbo after Carillion's liquidation have finally signed the £267m contract to complete the project.
The firm, who was appointed to the early works contract at the Midland Metropolitan Hospital in 2018, was named preferred bidder for the project earlier this year but red tape has delayed signing of the main works contract.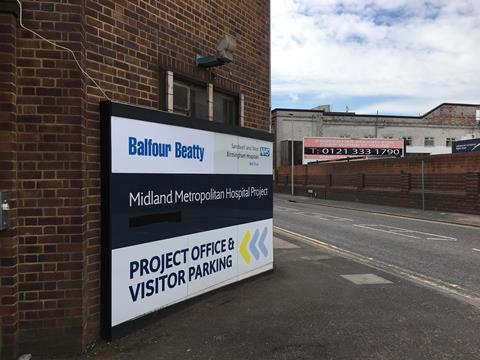 The contractor and Sandwell and West Birmingham NHS trust have now confirmed the deal to complete the project, which is being bankrolled by central government.
Works will start straight away with the hospital still due to open ahead of the 2022 Birmingham Commonwealth Games.
M&E work is being carried out by Balfour subsidiary Balfour Beatty Kilpatrick. Gleeds is project manager on the scheme.
At construction peak, the project in the Smethwick area of the city will employ a workforce of 760.
The 670-bed hospital will offer maternity, children's and inpatient adult facilities to an expected half a million people.