Firms say it is using building information modelling on £200m housing plan as well as new London tower development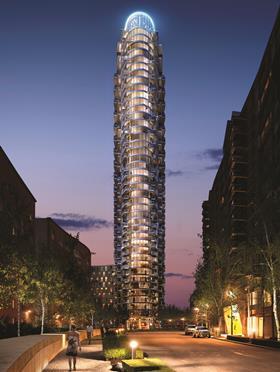 Balfour Beatty is using building information modelling on its first housing masterplan project – a £200m, 1,000-home project in Sheerwater, Woking, in Surrey.
Balfour Beatty's regional business Mansell secured the scheme – as well as a 30-year deal to maintain the properties once complete – last month, under joint venture New Vision Homes with partner Pinnacle PSG.
The Sheerwater scheme is thought to be one of the UK's first major BIM housing schemes. BIM is more commonly used on commercial or public schemes.
Balfour Beatty's design director Peter Trebilock said the firm's use of BIM on the project would help the firm achieve savings through off-site manufacture, logistics planning, phasing of the works and more efficient management of the homes once completed.
Balfour Beatty has been steadily increasing its use of BIM in the UK in recent years and is now using it on 80 projects and several bids.
Trebilock also confirmed the contractor has challenged its supply chain firms to adopt BIM within 12 months or face potentially losing work.
Balfour Beatty will factor subcontractors' BIM expertise into its selection criteria from 2014.
Trebilock said: "Everything else being equal, the firm with BIM expertise will have so much more the advantage."
The contractor will also be one of the first firms to deploy remote BIM tools on its sites, after beginning trials of 'field BIM' on three projects – its tallest tower project, £110m 43-storey Providence Tower in London's Docklands, parts of £460m Heathrow Terminal Two and a school project.
Field BIM tools allow workers to access project data remotely on sites using mobile devices, while also allowing them to input data and monitor construction progress.
Balfour Beatty's BIM director for major projects Tom Loader said 15 iPads would be issued to the construction team on Providence Tower (pictured), for use by construction managers, project managers and people fitting elements of the project.
The project data will update each time an iPad is returned to the site office.
Costain is using similar technology on its £400m revamp of London Bridge station.
Trebilcock said Balfour's use of BIM was starting to translate into tangible savings. He said the firm has identified £10m of savings on Heathrow Terminal Two, which were partly attributable to using BIM during the design process to work out the best value method of construction.